MINI KAPOOOW! Installation At The Salone del Mobile 2013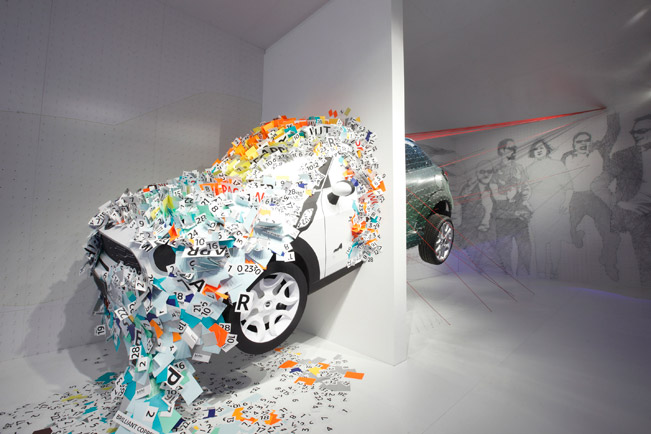 MINI Design Team led by Anders Warming has created an installation – a MINI Paceman as a dynamic structure, which is currently being exhibited during the Salone del Mobile. The installation is set up in an authentic MINI realm of experience – the MINI Paceman Garage.
During the exhibit, MINI KAPOOOW! @MINI Paceman Garage will act as a launch pad and platform for creative exchanges among artists and designers while offering a wide range of events.
But to be more precise, the installation was inspired by the many and different assets of the Sports Activity Coupé. It tries to highlight MINI's emotional essence and highly distinctive personality.
The first phase of the installation shows the rear end of the MINI Paceman as a dynamic sculpture. When one looks at it feels like it is going to undergo very soon a metamorphosis.
The individual vehicle components seem to fly apart, the colorful threads emanating from it representing this highly energy-charged process. In addition, an interesting element is that the MINI is connected with the people whose profiles can be seen at the front end.
The second step of the installation is where the Paceman crosses a boundary in the middle of the room. This phase offers and interesting new view of the car. It leaves its original form and the front end becomes an idea made of paper.
Only the general, the lines are kept and through numerous bits of paper and colored tabs the MINI Paceman manifest into a new physical form. As a matter of fact, the utilization of paper symbolizes the "prototyping" of a creative process.
The end goal of this interesting project is to present a colourful "wall of fame" displaying not only successful MINI models but also well-known film and cult personalities. To be your own hero – this is the motto which stays behind this unique artistic journey of MINI's.
Source: MINI