2013 Life Ball: MINI Paceman by Roberto Cavalli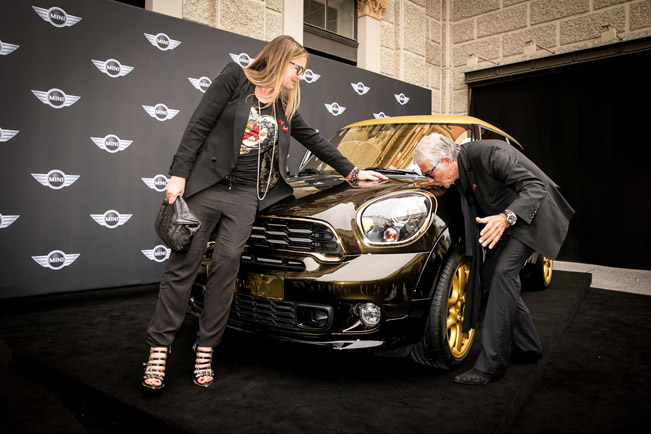 One of the biggest charity events has just happened this weekend and as we are familiar MINI brand is a big part of its history. The partnership began in 2001 and since then 13 one-of-a-kind MINI models have been designed and produced.
They were of course all auctioned with proceeds of more than half a million Euros flowing into projects dedicated to the battle against AIDS. This year, the designer under the lights was Roberto Cavalli who created a unique and classy MINI Paceman.
The Italian designer transformed the newest model in the brand family in his highly distinctive style. It is all adorned by gold elements inside and out, iridescent paintwork that shimmers from black to brown depending on the angle of light and the use of his hallmark animal prints.
In other words, this Paceman is a true work of art and few hours before its premiere, it was auctioned for a record price of 150,000 euros. Besides Roberto Cavalli, a whole line-up of iconic designers rendered their own MINI for this good cause. Among them are Dean and Dan Caten of DSQUARED, Renzo Rosso for Diesel and Donatella Versace.
2013 Life Ball went under the motto 1001 Nights" bringing together many celebrities, including Sir Elton John, Hilary Swank, Melanie Griffith, Barbara Eden, Carmen Electra, Bill Clinton, Anna Netrebko, Erwin Schrott and Fergie. They were all gathered around the mission to raise the awareness of the HI virus and its consequences.
Each year millions of people are being infected with the HIV. Since AIDS was recognized as a clinical disease on 1st of December 1981, many advances have been made in terms of research and prevention. However, the virus is still one of the biggest challenges for the human health.
Source: MINI