Monaco Grand Prix - Timo Glock and Jarno Trulli at the Bottom
Panasonic Toyota Racing left the Monaco Grand Prix empty-handed despite a valiant effort from Jarno Trulli and Timo Glock. Following yesterday's disappointing qualifying session, the team fully expected a challenging race and prepared accordingly. Timo started the race from the pit lane after modifications to the set-up of his TF109 and both began on very heavy fuel loads, using the soft Bridgestone Potenza tyres. They battled hard, however overtaking on the tight Monaco streets is extremely difficult and this restricted progress. By the time of Jarno's first pit stop - for another set of soft tyres - he was 12th while Timo had easily the longest first stint of all and had reached 11th place when he came in for super soft tyres. Jarno needed a second stop for a final stint on super soft tyres, which allowed Timo to get ahead. Timo battled past Nick Heidfeld in the final laps and crossed the finish line inside the top 10 while Jarno was 13th.
Timo Glock - Car 10, Chassis TF109-05 Grid: Started from pit lane Race Classification: 10th (+1 lap) Pit Stop Laps: 57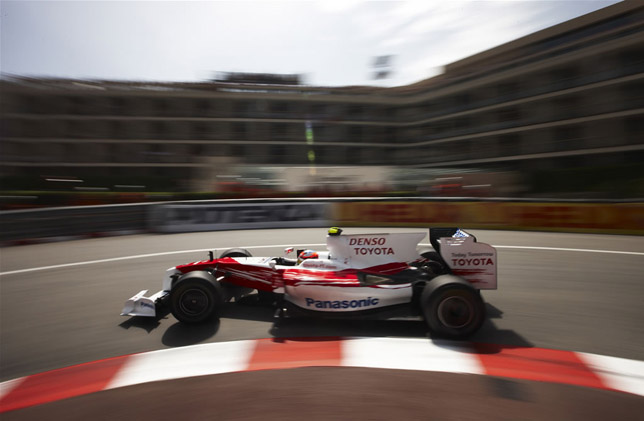 "I have to say that finishing in the top 10 was a bit more than I expected at the start of the race considering how the weekend had gone up to then. We had good pace in the last stint but when you start from the pit lane in Monaco you cannot expect to score points. This weekend started badly and from then on we were playing catch up. At Monaco you want to start the weekend on a good basis and then adjust the car to the track as it evolves, but we had problems from the first practice. I am looking forward to Turkey and I hope we can improve significantly."
Jarno Trulli - Car 9, Chassis TF109-06 Grid: 18th Race Classification: 13th (+1 lap) Pit Stop Laps: 49, 65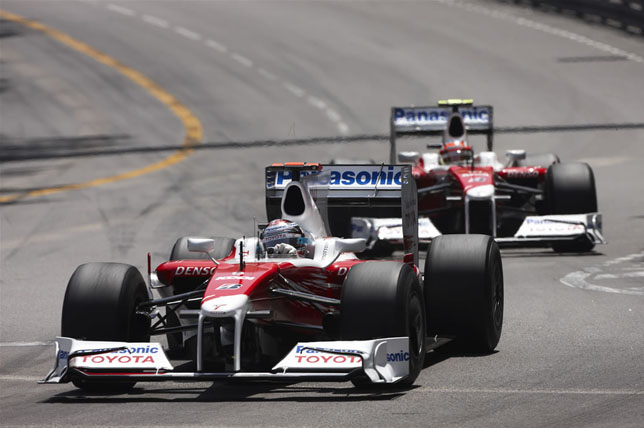 "It was a tough race for me, as we anticipated after the qualifying result. It was always going to be very difficult from where we were on the grid and my strategy didn't work out. I seemed to always be in the wrong place at the wrong time with the traffic, which is obviously a real problem at this track. Whenever I was putting in a few good laps I had to slow down again because slower cars were in front and it is impossible to overtake. Now this difficult weekend is over we have to forget about it and focus on the next race when I am sure we will be much more competitive."
Tadashi Yamashina - Team Principal
"Even though it has been a difficult weekend for us, and a disappointing race, the team and both drivers pushed as hard as possible and did a professional job. They never gave up even after such a frustrating qualifying result and that is a credit to them. We obviously have to look very carefully at what went wrong this weekend when we get back to Cologne. Everyone in the factory has worked really hard this season so I am sure we will be back where we belong in Turkey. We remain third in the Constructors' Championship so we must continue to fight hard and think positively."
Monaco Grand Prix - Race Round-Up
Race Result
1  J. Button      Brawn GP Formula One Team 2  R. Barrichello Brawn GP Formula One Team 3  K. Raikkonen   Scuderia Ferrari Marlboro 4  F. Massa       Scuderia Ferrari Marlboro 5  M. Webber      Red Bull Racing 6  N. Rosberg     AT&T Williams 7  F. Alonso      ING Renault F1 Team 8  S. Bourdais    Scuderia Toro Rosso 10 T. Glock       Panasonic Toyota Racing 13 J. Trulli      Panasonic Toyota Racing