2012 Mopar Chrysler 200 Super S
The brand new 2012 Chrysler 200 sedan will be modified with Mopar parts and accessories. The vehicle is a rolling showcase for the latest Mopar exterior parts that will be available for the 200 sedan in 2012. The Chrysler 200 Super S by Mopar will make its first appearance at the 2012 North American International Auto Show. The Super S is Mopar's view for Chrysler 200. And we must state that this new image of the vehicle is improved by the extensive list of high-quality Mopar parts which enhances the performance and look of our Chrysler 200.
At first, Mopar's modifications start with the front of the car with a large chin spoiler, satin chrome fog light trim, satin chrome grille surround and mesh in the upper and lower grilles. Moreover, the upper grille is gloss black with a recessed Chrysler wing badge. Additionally, body sides feature new side sills, satin chrome belt molding, black chrome "200" badges and gray or hyper black 18-inch "S" alloy wheels. Next, from the rear view, the new image is capped off by a new trunk lid spoiler, satin chrome light bar and a matte black lower diffuser with attached exhaust openings. There is also added a coil-over suspension, which minimizes the center of gravity for the vehicle. Furthermore it includes a cold-air intake and cat-back exhaust.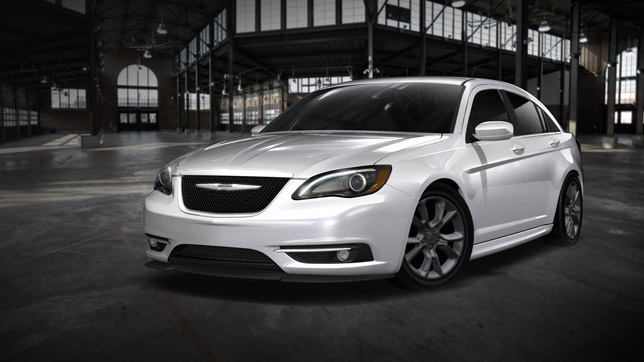 In general the 2012 Chrysler 200 sedan delivers exceptional value without compromise. It has a sophisticated design, high-quality craftsmanship and technology, all combined they keep passengers entertained and connected. In addition the car also offers excellent fuel economy and exceptional power, thus delivering drivers and passengers with exciting drive, but look forward to it. Furthermore, the 2012 Chrysler 200 provides drivers an agile, confident, handling performance in all driving situations. To be more precise, the vehicle is offered with the proven 2.4-liter World Gas Engine and is available mated to a four-speed or six-speed automatic transmission, for an exceptionally fun and fuel-efficient driving experience. The 2.4-liter I-4 engine produces 173 horsepower (129 kW) and 166 lb.-ft. (225 NM) of torque and has an EPA estimated fuel economy rating of 21 miles per gallon (mpg) city and 30 mpg highway mated to the four-speed automatic transmission and 20 mpg city and 31 mpg highway when mated to the six-speed automatic transmission. The available 3.6-liter Pentastar V-6 engine, one of Ward's "10 Best Engines", provides exhilarating driving experience thank to the exceptional V-6 horsepower and fuel economy. Moreover the new 3.6-liter Pentastar V-6 engine is mated to the 62TE six-speed automatic transmission and produces 283 horsepower (211 kW) and 260 lb.-ft. (353 Nm) of torque. It has an EPA estimated fuel economy rating of 19 mpg city and 29 mpg highway. To make more individual, Chrysler Group offers the car in four different configurations: The Chrysler 200 LX, 200 Touring, 200 Limited and 200S. All models are packed with style, innovative features and a dynamic driving experience, and more importantly they are at an excellent value. And with the package offered by Mopar, this car will be even more special for those driving it! Moper is well known for its innovations that deliver more excitement and dynamism in the driving experience. If you are not familiar Mopar is the first to introduce smartphone vehicle-information applications, which will deliver a new channel of communication with consumers. Moreover, Moper offers electronic owner manuals. More importantly is that they are the first to offer customers the ability to make their vehicle a wireless hot spot. You'll definitely love this feature! It also has Electronic Vehicle Tracking System (EVTS). This is a new interactive vehicle tracking device that sends owner a text when vehicle is driven too fast or too far based on pre-set parameters. Mopar is Chrysler Group LLC's service, parts and customer-care brand and no doubt it will enhance perfectly the new Chrysler 200 Super S!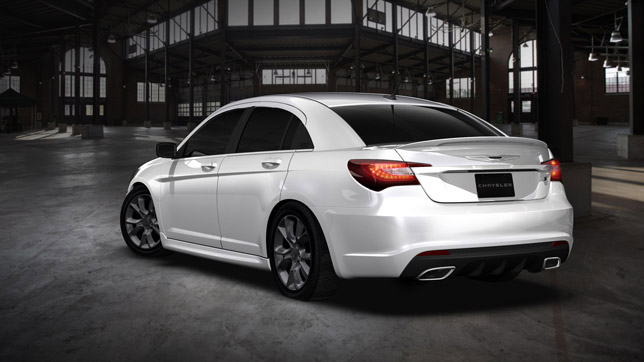 And if you got already interested by this astonishing Mopar package on the Chrysler 200 Super S, it will be available on Chrysler 200S later in 2012. Mopar's Chrysler 200 Super S will be one many Mopar-modified vehicles that will make their first appearance during the 2012 auto show season.
Source: Chrysler