Mopar Customizes 2014 Jeep Cherokee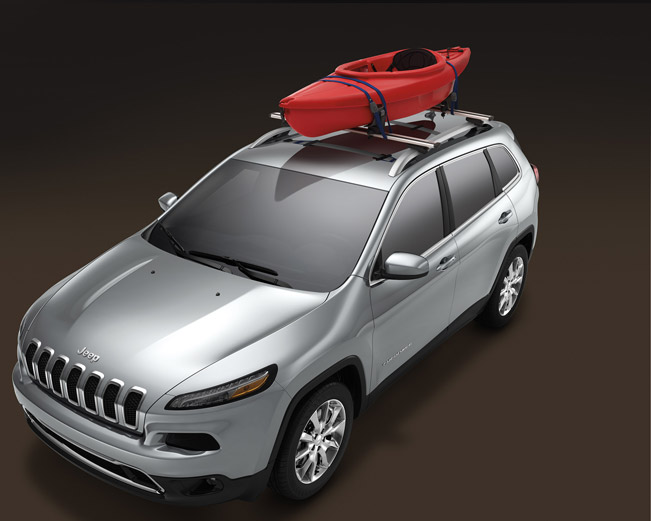 2014 Jeep Cherokee has been fully customized by Mopar. The latter brand offers more than 100 parts and accessories with the aim to deliver unique vision for every Cherokee driver. The new version of this Jeep was introduced in the beginning of last year at the New York Motor Show. Its exterior was much different and combined aggressive and bold design. Take a look at the curved griller, thin headlights and entirely redesigned front hood.
Mopar offers now versatile product range that enhances the appeal and practicality of the vehicle. Some of the products include chrome mirrors, Mopar Web, Mopar Electronic Vehicle Tracking System (EVTS) and even a pet carrier.
The customization company also provides available accessories to help owners make the most of the Jeep Cargo Management System (JCMS). Precisely, the universal module rack is mounted on the driver's side of the rear cargo area and includes hooks, removable first-aid kit, Trailhawk Off-Road Accessory Kit, Roadside Safety Kit, storage tote, collapsible cooler and more.
Here is the list of selected Mopar parts and accessories available for the 2014 Jeep Cherokee: Rock rails, multiple lifestyle racks and carriers, Mopar Web, Mopar EVTS, chrome mirror, pet carrier matte black hood decal, premium carpet mat, door-sill guard, front and rear splash guards, JCMS Trailhawk bag, JCMS Roadside Assistance Bag, JCMS Cooler, JCMS Storage Locker and JCMS Cargo Mat Bag.
Source: Jeep