Mopar Unveils 2009 Mopar Drift Dodge Challenger at SEMA
Mopar®, Chrysler LLC's global service and parts division, is bringing the all-new Dodge Challenger to the next generation of motorsports enthusiasts. Mopar will unveil the much-anticipated 2009 Mopar Drift Dodge Challenger today at the 2008 Specialty Equipment Market Association (SEMA) Show in Las Vegas.
Team Mopar driver and two-time Formula Drift (FD) champion Samuel Hübinette, who will steer the Mopar Drift Dodge Challenger during the 2009 season, participated in the reveal. Hübinette's team owner Shaun Carlson, owner of NuFormz Racing, was also in attendance. Carlson spearheaded the build of the Mopar Drift Dodge Challenger at his NuFormz Racing shop in Ontario, Calif.
The unveiling of the Mopar Drift Dodge Challenger at SEMA continues Mopar's long commitment to the rising motorsport of drifting. Mopar and Hübinette teamed up to capture the inaugural FD championship in 2004, with Hübinette also taking the 2006 FD title. Hübinette has claimed nine career FD victories, a series high, spreading the word about Mopar power to the younger demographic of race fans that follow drifting.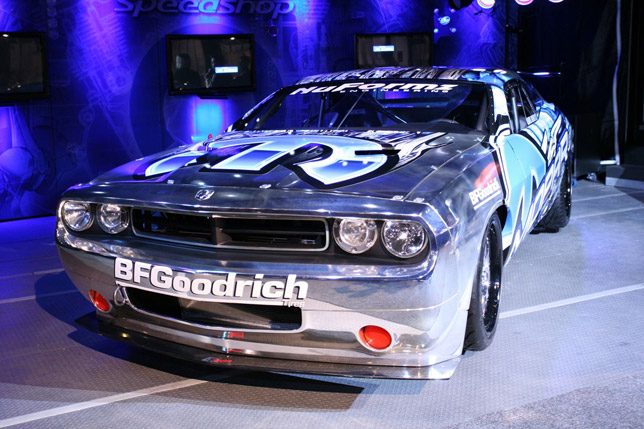 "The debut of the Mopar Drift Dodge Challenger solidifies the Mopar theme — if you can dream it, you can build it with Mopar," said Steve Shugg, Director of Sales and Marketing – Mopar, Chrysler LLC. "Mopar is reaching out to today's car enthusiast by combining its storied racing heritage with a variety of performance and accessory products that allow customers to make a personal statement with their vehicle."
Shaun Carlson and Samuel Hübinette on the 2009 Mopar Drift Dodge Challenger The creation of the Mopar Drift Dodge Challenger was no easy task for Carlson and his NuFormz Racing crew.
"We learned a lot from building the Mopar Drift Dodge Charger, which Sam drove during the 2007 season, and transferred that knowledge to the Mopar Drift Dodge Challenger," said Carlson. "When we decided to bring out a new competition drift car, what better platform than the new Dodge Challenger. It has cool styling, great aerodynamics and it's a car that we feel is going to create a lot of buzz among fans of the FD Series."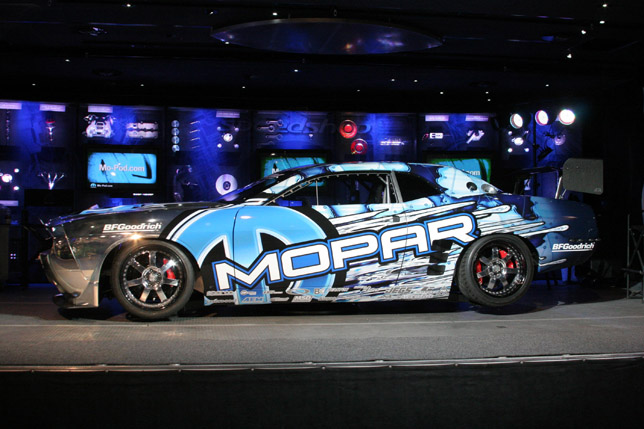 The Mopar Drift Dodge Challenger underwent modifications, including a variety of safety components such as a full roll-cage and a five-point harness. A front carbon-fiber splitter and rear carbon-fiber wing were added for improved aero dynamics, and weight was trimmed off the Dodge Challenger SRT8 chassis by utilizing a custom carbon-fiber body by NuFormz Racing.
"One of the biggest modifications was making the car light," Carlson remarked. "Much of the body is now carbon-fiber, which cut quite a bit of weight. We've been able to put a lot of time, effort and hard work into this car. It's going to be strong."
The powerplant of the Mopar Drift Dodge Challenger features a Mopar A8 aluminum engine built by Gary Stanton Racing Engines, with Mopar W9 raised port heads, pumping out an estimated 850 hp and 849 lb-ft of torque to BFGoodrich tires. Additional Mopar components include Mopar front and rear sway bars on the suspension.
"This is going to be an exciting time, bringing out another car and another platform," said Hübinette, who in 2009 will mark his sixth year as a member of Team Mopar. "All that we learned from building the Dodge Charger drift car is transformed into this car and really makes it competitive. The Dodge Challenger is definitely the hot vehicle right now — everybody's talking about it. Having the vehicle built as a competition drift car is just going to add even more excitement. We're pumped up about launching this car, doing some testing over the winter and getting it ready to rock, and then taking home some victories next year."