Morgan Plus E Concept to be revealed in Geneva
Morgan has designed an electric sports car with a five-speed manual gearbox. The company has worked in collaboration with technology specialists from Zytek and Radshape. The new roadster will be showcased as concept in Geneva and will test the market reaction.
Morgan Plus E Concept combines Morgan's traditional look with high-technology construction and a powertrain that offers substantial torque instantly at any speed. The manual gearbox, in addition, increases both touring range and driver involvement. The concept vehicle is based on a tailored version of Morgan's lightweight aluminium platform chassis. Then it has been clothed in the revised "traditional" body from the new BMW V8-powered Plus 8. Power is delivered by a new derivative of Zytek's 70kW (94bhp) 300Nm electric engine. In details, this Zytek unit is mounted in the transmission tunnel and drives the rear wheels through a conventional five-speed manual gearbox. Moreover, the clutch is retained, but because the motor provides torque from zero speed. Hence, it is the drivers' choice whether to leave it engaged when coming to rest and pulling away. The multi-speed transmission allows the motor to spend more time operating in its sweet spot, where it uses energy more efficiently. In addition, it also allowed the engineers to provide lower gearing for rapid acceleration.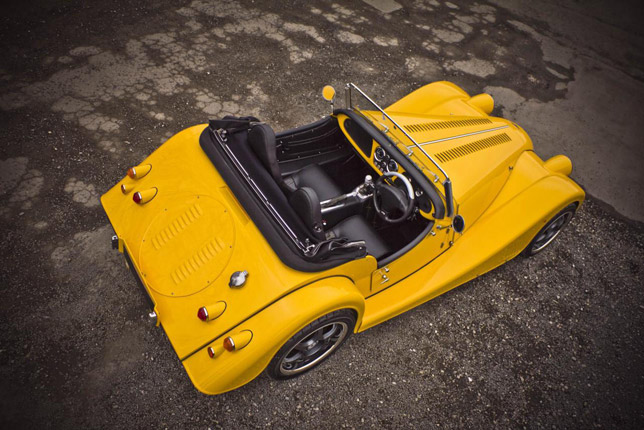 The work of collaboration is set to createvtwo engineering concept vehicles. The first is going to be quipped with the five-speed manual box and Li-ion batteries. It will be used for preliminary engineering assessment. On the other hand, the second will be closer to potential production specification, with alternative battery technologies and possibly a sequential gearbox. Of course, both models will carry the significant design of Morgan and will bring the traditional elegance to life. In addition, exquisite craftsmanship with the latest light-weight construction techniques and a choice of high-efficiency engines that offer everything from economical daily motoring to outstanding super car performance will be the highlight of the vehicle. The high-precision sheet metal components and assemblies will be delivered by Radshape. The company combines traditional craftsmanship with substantial investments in the latest production technologies.
Source: Zytek