Most Efficient Sports Car: 2014 Chevrolet Corvette Stingray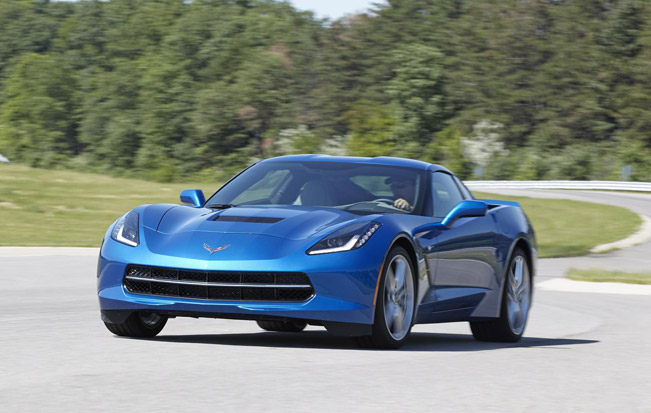 It is officially announced that the 2014 Chevrolet Corvette Stingray is the most fuel efficient sports car currently being offered on the market. The tests have shown that the Chevy delivers up to an EPA-estimated 17 miles per gallon in the city and 29 mpg on the highway.
This means that the Corvette Stingray is a true benchmark for modern performance cars thanks to the utilization of technologies which deliver more performance and more miles per gallon. The car is equipped with a seven-speed manual transmission which helps further enhance the fuel efficiency and reflects the average fuel economy.
The default "Tour" mode for instance delivers 28 mpg highway and on the other hand when the car is in a driver-selectable "Eco" mode, it delivers 30 mpg highway. In addition, in those Stingrays which come with the seven-speed manual transmission, the Eco mode enables Active Fuel Management, which disables four of the cylinders for enhanced fuel economy during light engine loads.
For those models which are equipped with the six-speed automatic, the Active Fuel Management is active in all drive modes until the person behind the wheel uses the manual-shift mode through the steering-wheel paddles.
Furthermore, it was announced that there is an 11 percent increase in the highway rating over the previous Corvette. Additionally, the 6.2L LT1 V-8 engine generates 455 horsepower (335 kW), which is a 6 percent increase over the previous versions of the car. The LT1 also delivers 460 horsepower (338 kW) with the available dual-mode exhaust.
What is typical for sports cars with more than 455 horsepower is that they offer significantly lower highway fuel economy estimates. An example is the Jaguar F-Type S which delivers 495 hp (364 kW) and 23 mpg highway while the Audi R8 V10 offers 510 hp (375 kW) and 19 mpg highway.
What is more, the sports cars that deliver more than 29 mpg highway based on EPA estimates usually offer less engine output. The example here is the Porsche Cayman that delivers 30 mpg and 275 hp (202 kW), and the BMW Z4 sDrive28 – with 34 mpg and 241 hp (177 kW).
2014 Chevrolet Corvette Stingray Coupe will go on sale this autumn, while its Convertible version will be launched on the market by the end of the year.
Source: Chevrolet