MTM R8 V10 Biturbo
Audi R8 V10 Biturbo will be exhibited by MTM at the Geneva Motor Show in several days. The chrome exterior is a little bombastic, but it suits to the car perfectly.
The tuned Audi is powered by 5.2 liter Biturbo V10 with 777PS (571 kW) and 888Nm (655 lb-ft). The top speed is 360 km/h (224 mph), but for now the sports car has managed to do only 347 km/h. The mighty engine is mated to a 6-speed manual gearbox.
For such high speeds, MTM has improved the aerodynamics by installing a new front lip and a huge rear spoiler.
MTM R8 V10 Biturbo stands on enormous 20" wheels with Michelin PS2 tires. Behind them, there are 8 piston brakes.
The price tag - €400 000.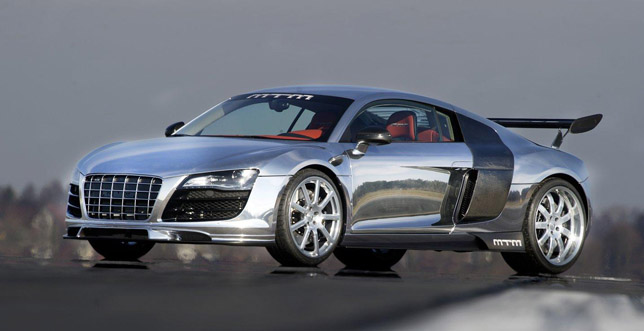 source: MotorVision.de