Nagel Dakkar Dartz Concept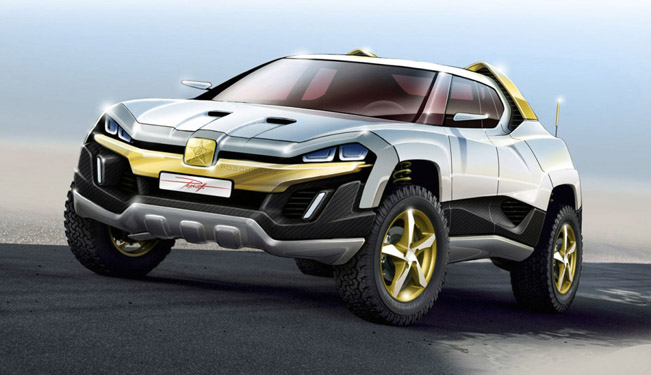 Here is a nice look of the future vehicles - Nagel Dakkar Dartz Concept. The car is sketched by DARTZ stuff designer Alex Isaev and German designer Pochwatta.
According to them:  "DARTZ-SAM will be favorite car in Your garage - as when you will wake up don't knowing what's your plans for today, you can easy jump in in DARTZ-SAM - you can go off-road, all-road, or any-road."
DARTZ-SAM sales plan on nearest years:
2013 10 units
2014 20 units
2015 40 units
2016 40 units
2017 40 units
Car price is planned  €250,000 - €300,000 for base model.
Car Specifications:
Engine
8 cylinder AMG Mercedes V8 Bi-turbo
Capacity 5.5L
Performance 650 HP, 850 Nm (626 lb ft)
Top speed 250 km/h
Drive train
Gearbox 7
gear double clutch gearbox
Clutch AP Racing
Sinter metallic Differentials Sadev
Body
Titanium tubular frame chassis Base for all the vehicles
Carbon Kevlar chassis Extremely light
Dimensions
Length 4620 mm (4-door / 4920mm)
Width 2000 mm Height 1700 mm (250 mm clearance)
Unloaded weight 1890 kgs / 1990 kgs
Wheel base 2910 mm (4-door / 3210mm)
Source: Dartz