NELLY's Flex Unveiled At SEMA Show
Grammy Award-winning artist Nelly will see his brand new customized 2009 Ford Flex for the first time today when the vehicle is unveiled on the Ford stand at the Specialty Equipment Market Association (SEMA) show in Las Vegas.
The 34-year-old rapper, singer and actor says Ford's newest crossover caught his eye for the first time in July when it was on display at a Ford-sponsored event in Atlanta.
"When I saw it, I said 'Yo, that's hot!  How can I get one of those?'" he recalled.  "I thought it was a real unique vehicle."
Later that night, Nelly shared his excitement about the car with his good friend, hip hop DJ Funkmaster Flex, who has a customized Flex of his own.  That's when the metaphorical wheels started turning.
"I've been partnering with Ford on some amazing vehicles since 2005," said Funkmaster Flex. When Nelly reached out on wanting a custom Flex of his own, I knew it was going to be 'on and poppin.'  From our initial meeting with him at my warehouse in the Bronx to follow-up conversations that we had about this vehicle, there was no doubt that we could deliver something that would ultimately be true to Nelly and his own style".
"When it comes to a vehicle looking sweet, this crossover is beyond sweet," said Flex of the crossover. "This vehicle is one where you can be hot coming off the dealership lot—which is a plus, but when you know that you can customize it afterwards and turn a car that's a 10 into a 20—that's super hot." It was even more exciting for me to be able to work with Nelly and introduce him to the Ford team of designers to create a vehicle all his own. It was definitely an experience."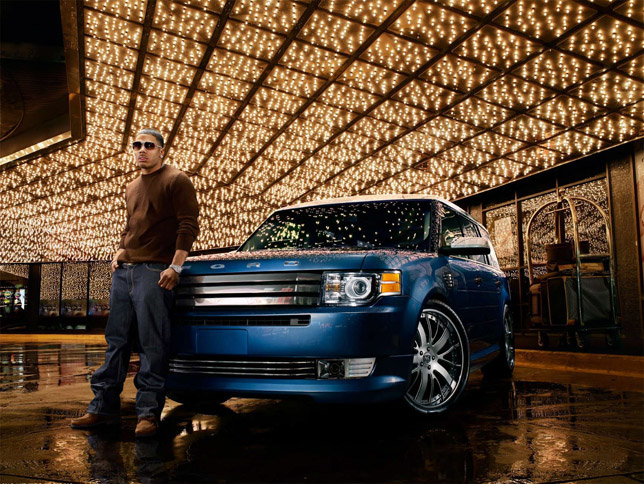 Usha Raghavachari, Ford's Crossover Marketing Communications Manager, attended the initial event in Atlanta and says she was delighted to see how enthusiastic Nelly was about the Flex.
"He is a huge hip hop star who transcends the traditional audience.  The fact that he is attracted to Flex is testament to its head-turning design," she said.
Nelly says he was thrilled about the idea of "building" his own Flex.
"I'm what they call a 'premiere stuntastic stuntman,' and so you know when it comes to cars, I'm pretty inclined to go overboard," he said.  "I wanted to really turn the vehicle into mine.  You can do so much with it, and I think that's the best thing about it."
After meeting with Nelly and getting a feel for his taste, Ford Designer Melvin Betancourt began sketching.
"Just from talking with Nelly, we knew that he wanted a custom-color blue car with a white roof, a great sound system, 22-inch wheels, an exhaust system with a little bit of a rumble on it, and a personalized interior," said Betancourt, who worked with Catalyst Industrial Marking, Inc. to build the vehicle.  "He wanted our input on the other elements of the customization."
One of the first ideas they had, says Betancourt, was to design a custom appliqué for the roof.
"We created an art form that we feel reflects Nelly's personality," he said.  "It's a bird, which is a symbol of freedom -- the ability to do whatever you want in life -- and it has a very modern feel to it, which is very Flex."
The wheels had to stand out.  So the team chose NC Forged "6 Spoke" 3-piece aluminum, 22-inch wheels with NC floating center caps.
"Wheels are usually either all-chrome or all-painted.  We did custom chrome rims with a brushed aluminum center, which is very unusual," he said.  "We also wanted a wild, crazy offset on the wheels, so we went with a 4½-inch rim in the back and a 3-inch rim in the front, which creates a staggered look."
Betancourt says the inspiration for the interior of the vehicle came largely from the exterior.
"The outside of the car reflects his personality, so it was a matter of bringing the some of the same elements inside," he said.
The team selected a black Tuscany leather interior with Katzkin® seats and contrast blue stitching that picks up the unique exterior color of the car.  They also replaced all the wood grain trim inside the car with the same artwork appliqué featured on the roof.
In addition, Nelly's Flex features the industry-exclusive Ford SYNC™ technology and a CIM LIIV™ wireless Internet entertainment system, which enables passengers to enjoy web surfing, online games, e-mail, downloaded movies, music and live television.
Nelly says one of the things that really attracts him to the Ford Flex is the vehicle's potential to transcend the generation gap.
"It used to be that parents and kids didn't like the same thing.  Families are getting a lot younger, and now it's kind of a friendship between parents and kids," he explained.  "When you can have a vehicle that both can rock their own way, I think you have something there that's very special."
Raghavachari agrees.
"Flex has successfully attracted a wide variety of people to Ford, with over half our customers being completely new to the Ford brand," she said.  "This car helps our customers make a real statement about themselves and allows us to make a statement about where Ford is headed in terms of design and innovation."