Nissan Altima Debut at NYIAS
Here it is. After countless, uninspiring teasers, the latest Nissan Altima finally shows up to the world. And you know what? On paper it sounds pretty good. There's a lot to work here with but the main points are that it is lighter, more economical then ever, torquey and abundantly equipped.
At the engine bay, there isn't much going on. Sure, the Altima comes with a choice between a 2.5-liter 4-cylinder and a 3.5-liter V6 power plan but neither of these engines are mind blowingly innovative. Rather, they are proven. Carryovers from previous generations. The 2.5 unit, being a bit lighter now and having a cleverer valve timing, produces 7 hp more. That makes an overall power output of 182 hp and just as much lb-ft of torque. The advanced, award-winning VQ35DE 3.5-liter V6 remains rated at 270 horsepower and 258 lb-ft of torque.
So, on what ground do the Nissan people claim that an Altima will do 38 mpg (provided that it's the 2.5...on a highway...with proper conditions). That's the highest economy figure they have to work with but it does make sense. While the engines have not been specifically calibrated to sip fuel, the Xtronic CVT helps the Altima do just that. With friction inside reduced by 40 percent, this shiny new gearbox has also an extended gear ratio range and logic control...whatever that means. The important thing is that with it, the 2.5 Altima achieves 27 mpg city, 38 mpg highway and 31 mpg average while the 3.5 V6 gets 22 mpg city, 30 mpg highway and 25 mpg average – class-leading they say.
The body of the 2013 Altima might also be responsible for that frugal state of mind. We know for a fact that it is 80 pounds lighter (despite the whole car being bigger) than the previous one. It's stiffer too thanks to the use of ultra high strength steel, the addition of a larger front tower strut brace and the new rear structural support built into the rear pass-through/parcel shelf. Not that anyone's going to take a mid-sized saloon like the Altima to a track but it's good to know this.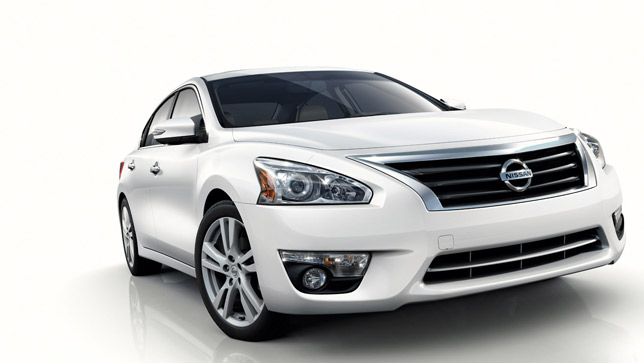 Still, with a multi-link rear suspension, one does get a deserved sense of security. ZF SACHS designed shock absorbers provide comfort and stability at the same time. There's a thing called Active Understeer Control which, when turning, can use the car's Traction Control System to brake the inside front wheel so that to prevent the car from going in to a tree. Electronic Hydraulic Power-Assisted Steering ensures that wonderful mechanical responsiveness combined with an electronic efficiency. There's some standard stuff as well – ABS, Electronic Brake force Distribution etc.
Wheels and tires come in different sizes for both the 2.5 and the 3.5 setups. The former one can get the 16-inch steel rims that come with full covers and 215/60R16 tires or the 17-inch aluminum-alloys wrapped in 215/55R17 V-rated all-rounders. 18-inch aluminum-alloy wheels with 235/45R18 V-rated all-season tires come as standard on the 3.5-liter V6.
Depending on the trim level pick (there are seven of them), your Altima can be packed full of smart technologies, safety features and driver aids that are supposed to make your life easier. Take for example the Blind Spot Warning, the Lane Departure Warning and the Moving Object Detection systems. They all use the same rear-mounted camera you get with the optional Technology Package. A 7.0-inch touch navigation/interactive multimedia system also comes as an option. The windshield wipers are smart and so are the headlights. The seats are ergonomically designed using NASA derived methods and when filling up the tires at a station, the Altima will honk its horn to tell you when the ideal pressure is achieved – you clever Herbie you.
So there you go. If you happen to live somewhere near the New York metropolitan area, hop by to the Jacob Javits Center in NY City. Public access will be granted from tomorrow.
Source: Nissan