2013 Nissan Cima delivers comfort and luxury
2013 Nissan Cima has been launched today and will go on sale in less than a month – on 21st of May. The new version of the model delivers excellent driving performance, advanced equipment and latest technologies.
This in fact is the fifth generation of the model, which is going to be released. Although it continues the design language of its predecessor, it also features a lot of distinguish enhancements.
Moreover, it is promised to combine exceptional engine performance with superior environmental performance. Of course, high levels of comfort and safety is its attributes as well.
The exterior design of the vehicle now includes a large grille and bumper, long wheelbase of over 3 meters and flowing side view.
In addition, the Nissan vehicle is providing great ride comfort and quietness thanks to its refined comfort suspension, sound-absorbing tires and Active Noise Control. In the rear seats are featured best-in-class knee room and a range of comfort equipment. This equipment includes 7-inch wide display integrated with the front seat headrest, overhead reading light, vanity mirror and sunshade.
More importantly, the new Cima achieves 20% improvement in terms of fuel economy. The car in addition is based on the two-pillar strategy "zero emissions" and PURE DRIVE, which help reduce the CO2emissions. In fact, the new Cima is one of the PURE DRIVE vehicles equipped with Nissan's original hybrid system.
Exterior Design of the CIma delivers Premium Feeling and Strong Presence. It includes distinctive front mask featuring a large grille with solid, three-dimensional frame and plating molding bumper. Its flowing silhouette further emphasizes the harmonic exterior and beauty in proportions. The car will be available in five exterior colors, carefully chosen to emphasize the elegant bodylines.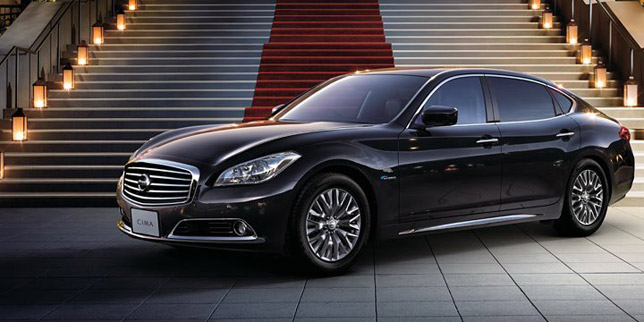 Next, the Hybrid System included in the car Utilizes Nissan's "Intelligent Dual Clutch Control". This is a one-motor two-clutch parallel hybrid system offering an optimal balance of direct response, superb driving feel and low fuel consumption.
Furthermore, the Cima cmbines a hybrid VQ35HR engine with maximum power of 225kW(306PS)/6800rpm and maximum torque of 350N•m(35.7kgf•m)/5000rpm) with an advanced 'HM34' electric motor with maximum power output of 50kW(68PS) and maximum torque of 270N•m(27.5kgf•m)and high-output lithium-ion battery with a quick charge/discharge function, highly-efficient and powerful driving is realized under various driving conditions.
The engine is mated to an electronic 7-speed hybrid transmission with manual shift mode. Next, the Electro-Hydraulic Power Steering system generates hydraulic pressure and the Electric Driven Intelligent Brake comes with applied electric-type booster.
Moreover, the Nissan, come equipped with regenerative braking system, meter display that shows various information, including operating conditions of the hybrid system (Energy Monitor), battery remaining capacity, Accelerator Guide, ECO-drive Indicator and a liquid-crystal odometer/twin trip meter (with an EV mode travel distance display function).
The Advanced Safety Technologies included in the car are: Intelligent Control Assist (Distance Control Assist); Intelligent Cruise Control; Intelligent Brake Assist/Emergency Brake Operated Pre-crash Front Seat Belts; LDP (Lane Departure Prevention)/LDW (Lane Departure Warning)/ FCW (Forward Collision Warning); VDC (Vehicle Dynamic Control including Traction Control System).
Next, the key features and enhancements of the interior are the following: the 2013 Cima comes with a long wheelbase of over 3 meters, It delivers comfortable and enhanced luxury feeling which is expressed through the use of soft, premium semi-aniline leather and wood grain panels coated with genuine silver powder.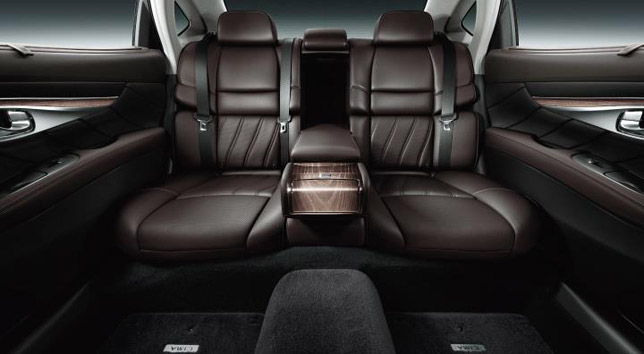 A lot of attention is put on the rear seats where the passengers will find a lot of comfort. First to be mentioned is the Private Theater System powered by a Bose® 5.1 Surround Sound System with 16 strategically placed speakers.
Additionally, there are the high-definition 7-inch VGA display installed in the front seat headrests, providing high-quality clear images and enjoy for the rear passengers. Other features include: overhead reading light for rear seats; rear seat personal light and illuminated vanity mirror; electrically operated rear window sunshade; rear door sunshades; DC 12V power sockets on and inside the center console; front passenger seat control switch for adjusting front passenger power seat;
Source: Nissan