Nissan to Dominate Dubai 24h Hour Race
After an amazing season last year, Nissan are ready to stun the racing world again, beginning with the Dubai 24h race. They have a new GT-R Nismo GT-3 lined up and ready to take on the A6 category. The team that will be performing there consists of four drivers - Michael Krumm (GER), Tom Kimber-Smith (UK), Franck Mailleux (FRA) and Alex Buncombe (UK). They have many titles behind their backs some of which include the Le Mans Series LMP2 , the Intercontinental Le Mans Cup LMP2 and the Blancpain Endurance Series' GT4 crown. So this year's car truly has the task of crossing the finish line with royalty inside and it is rightfully named as the "Champion's car"
"2011 was a great year for Nissan and I am very much looking forward to racing the new GT3 car in Dubai," commented Krumm. "The Nissan GT-R took us all the way to the top in 2011 so I hope we can have a good race with the new car. It's great to celebrate a successful 2011 for Nissan and I'm excited to see how the GT Academy guys get on in the 'All-Gamer' car."
In that last bit he is talking about the first all-gamer team which is also taking place in the Dubai race. Competing in a Nissan 370Z, will be the winners of the Nissan/Playstation GT academy challenge. They have underwent rigorous training to meet the standards of a demanding race such as this one. The team comprises of two new-comers: Jann Mardenborough (UK) and Bryan Heitkotter (USA) along with the previous season One and Two winners: Lucas Ordonez (ESP) and Jordan Tresson (FRA).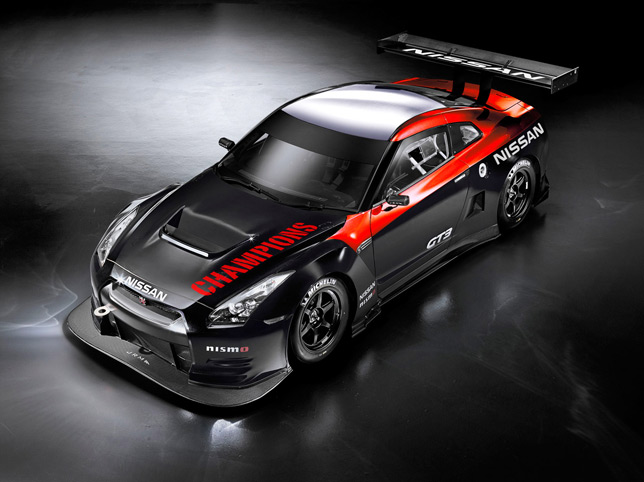 A third Nissan (again a 370Z) will also be participating in next week's race as Humaid Al Masaood (UAE), Richard Meaden (UK) and Tetsuya Tanaka (JAP) will also be representing RJN motorsport
"I have competed successfully in the previous two Dubai 24hr with my own team so to be invited to race with Nissan and their three car assault is a great honour and a new challenge," said Al Masaood. "Although I am now racing in the USA there is something very special about racing in my local 24hr as it is this race that has helped me develop as a driver. I am looking forward to working with Nissan and my co-drivers and hopefully delivering a great result. It is really encouraging to see Nissan bringing talented young drivers into motorsport through GT Academy and I am keen to see drivers from the Gulf region be given the opportunity to start racing through such a professional programme."
Set to start next Friday, the Dubai 24 Hour Race is an endurance race held annually at the Dubai Autodrome. It was first held in 2006 and is considered to be extremely testing for both driver and machine.
Source: Nissan