noelle motors impresses with BMW 750i's new power capability

The iconic BMW 750i receives a three staged power uprating program
This project will excite many BMW enthusiasts, because it adds more power within the means of three upgrade stages. The conversion has been developed for the BMW 750i G11, and those looking for an uprating might consider this one. So, here are the details.
If you are very strongly linked with your love for BMW, then you should probably know the tuning company called noelle motors, which is responsible for the current project here. An interesting fact is that it's founder Karl-Otto Noelle was the former head of engine development at Alpina in the 80s. He's main passion and duty was to extract massive amount of power from engines.
SEE ALSO: Noelle Motors Granted BMW Alpina Bi-Turbo With Some Special Attention 
The legendary BMW 750i is currently equipped with the V8 unit, which due to the addition of a pair of turbochargers, direct injection and Valvetronic, pumps out 450 hp and 650 Nm of torque.  In other words, the engineers at noelle motors has the best possible toy to play with. They have thus developed a three staged program for the bi-turbo V8 N63B44 motor.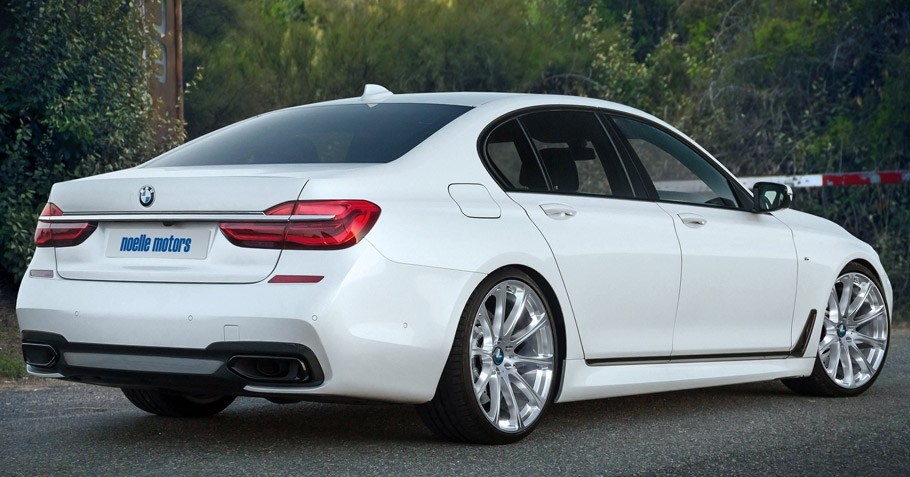 Stage 1 is just software optimization, which takes the output to 590 hp and 760 Nm of torque. Given that these numbers have been raised, this means that the benchmark 0-100 km/h sprint should be shortened: it is now 4.0 seconds, compared to the standard 4.7 seconds.
The Stage 2 conversion adds over the first one a free-flow exhaust downpipe with the appropriate ECU remapping. The result is 609 hp and 790 Nm of torque and even a shorter 0-100 km/h sprint time: 3.8 seconds.
At the top of this project is the Stage 3 modification, which unleashes V8's unlimited potential. It adds modifications to the turbochargers, larger downpipe and tailored ECU remapping, thus helping the BMW 750i produce 629 hp and 820 Nm of torque. If you wonder about the 0-100 km/h time, it is just 3.6 seconds, giving noelle motors' BMW 750i a place in the super sports car league.
That's kind of great, isn't it?
Source: noelle motors