NRW Volkswagen Passat CC With Enhanced Power Output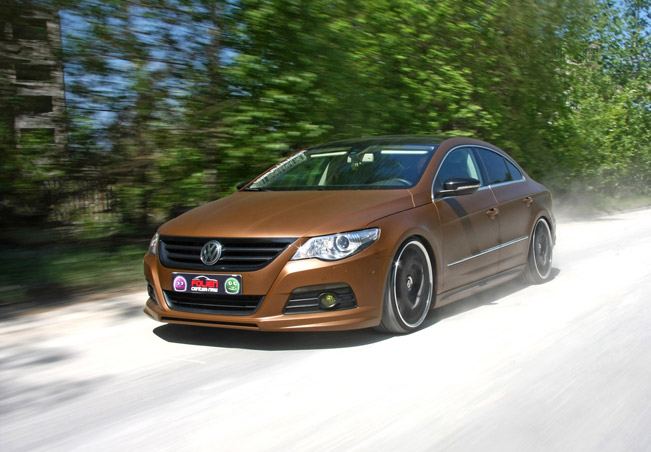 The latest project by FolienCenter-NRW is this Volkswagen Passat CC which has been wrapped with high-grade Marrakech brown-matt taken from the Hexis foil program. However, they have made a contrast with the warm brown colour shade and the roof, external rear-view mirrors and the radiator grill which were covered in glossy black.
In addition, there is also a three-dimensional "R" relief which is embossed on the broad C-column in the wrapping dress. It is naturally reflected in the factory-installed R-line bodywork package of the luxurious flagship.
The specialists have also equipped this Volkswagen with new set of shoes. To make it even more luxurious they have included Bentley Mulliner rims with matt-black stars which perfectly match the 9x20-inch Nobel wheels. The latter in addition were applied with Nankang NS-II tyres of the dimension 225/30R20.
Furthermore, the CC was given a lowering DDC coilover kit which ensures that the wheel-tyre combination is completely fitted in the wheel houses. An additional boost in the engine was delivered by SKN. The professionals there managed to increase the output of the 2.0 litre TDI engine from 170 hp (125 kW) to about 210 hp (155 kW) via "stage 1" engine map optimization.
This enhancement also resulted in increase of maximum torque which now is more than 400 Nm (295 lb-ft) and thus leading to a powerful thrust whenever the accelerator is pressed.
At last, FolienCenter-NRW also put some efforts on the interior of the Passat CC. For instance the company equipped the car with aluminium surface of the R-line package on the dashboard, centre console and door linings wrapped in the colour of the car, R-line sports steering wheel which is flattened below and R-line aluminium pedal systems.
Source: FolienCenter-NRW