O.CT Tuning Volkswagen Golf VII R is a Muscled Beast which demands your attention NOW

O.CT Tuning has more than 30 years of expertise in performance optimization. It is mostly famous for its in-house made IPRO, or Intelligent PROgramming system. Another characteristic of the company is that it likes very much to deal with cars like the Lamborghini Huracan (see the link below), Porsche 911 and the Stingray. This Friday, however, we are going to show you something more … middle class.
The car chosen for modification is the Volkswagen Golf VII R, which has been on the market since November 2013. Originally, this VW is powered by the 2.0 liter-motor, which produces 300 HP (221 kW) as well as 380 Nm (280 lb-ft) of maximum torque and drives the four wheels simultaneously.
SEE ALSO: O.CT Tuning Releases Wild Supercharged Kit for Lamborghini Huracan
The initial aim with this customization is to offer several stages, which could deliver higher output than the aforementioned one and have that one peak output and torque, so that it could deserve the name muscle beast. And the goal was successfully achieved.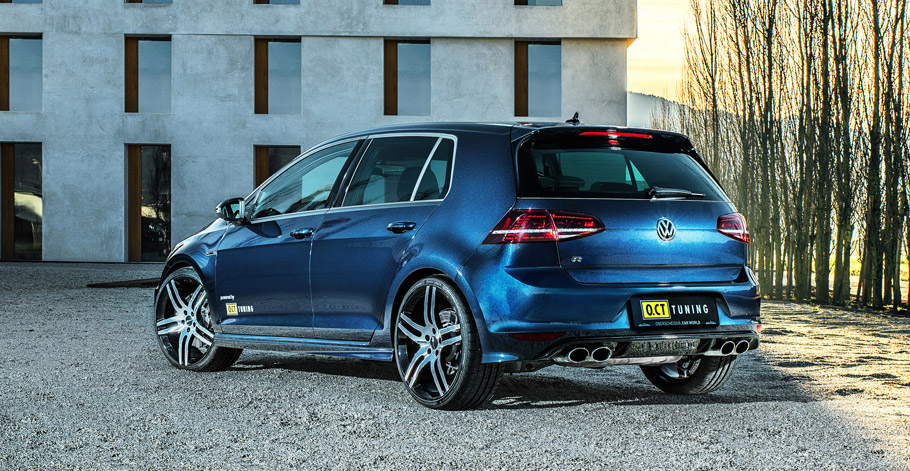 To go directly to the details, O.CT Tuning provides the performance update for the 2.0-liter unit in four different stages. The first one will make the Golf produce 370 HP and 460 Nm; the second: 378 HP and 480 Nm; and the third: 395 HP and 505 Nm.
The final stage is what really impresses, since it makes the car produce no less than 450 HP (331 kW) and 550 Nm (406 lb-ft)! What is more, for the Golf VII R with a body construction made of 36% high-tensile steels, O.CT Tuning offers an installation of the different performance levels gradually until the maximum power is accomplished. And this really saves on the budget aspect.
As for other performance details like acceleration time and top speed, the tuning studio did not provide any information. So, what do you say?
Source: O.CT Tuning