O.CT Tuning Releases Wild Supercharged Kit for Lamborghini Huracan

O.CT Tuning specializes in the fields of hardware and software, hence this fact makes them the perfect customization company for Italian cars like the Lamborghini Huracan. With the release of their Intelligent Programming System (IPRO) they have made a big furor inside the tuning business. This particular system allows simple programming of command devices via OBD-II diagnostics interface, which only benefits the processes of modification especially to cars with a lot of horsepower.
In addition, the experts also use a special in-house made compressor technology, thanks to which the performance of the super cars car be uprated easily and substantially.
Lambo Huracan O.CT800
An example of all that was aforementioned is this unique Lamborghini Huracan, which is equipped with the supercharged O.CT kit, that allows it to produce 805 hp (592 kW) and 810 Nm (598 lb-ft) of torque. This uprating was achieved with several means, the main of which is the compressor conversion kit.
SEE ALSO: Meet 669 HP Porsche 911 Turbo S Powered by O.CT Tuning 
Crucial role also plays the exhaust system, which is 20 kg lighter than the standard one and also produces vigorous sound. The exhaust was matched to the new V10 compressor kit, this boosting additionally the driving performance.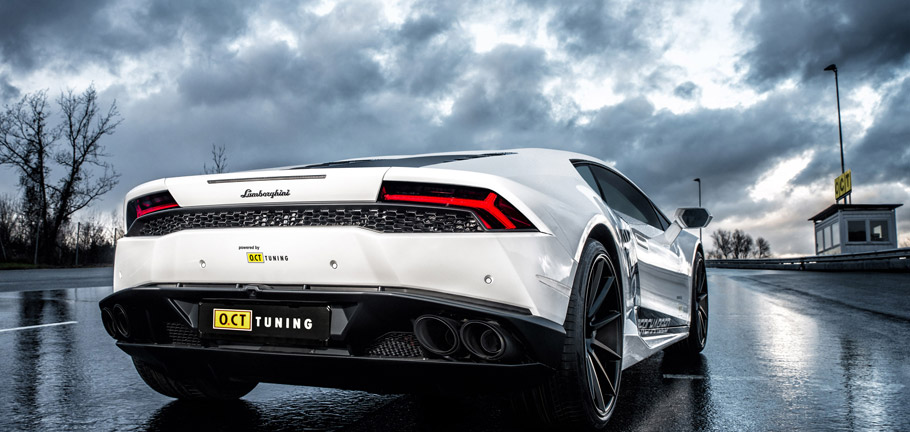 The result is visible through the performance figures that the Huracan achieves. Precisely, the 0-100 km/h sprint is covered in 2.5 seconds, while the 0-200 km/h – in just 8.3 seconds. What is more, the top speed has been raised to somewhere beyond 325 kmph (200 mph).
At last, the slightly changed exterior has to be mentioned too. It now features O.CT branded wrapping, but more importantly the car rides on new wheels, measuring 9x20 and 12.5x21 at the front and rear, respectively.
Source: O.CT Tuning via Miranda Media