Holland & Holland Range Rover by Overfinch announced
It was announced simultaneously today at the Game Fair and Salon Privé that Holland & Holland, makers of the world's finest sporting guns and Overfinch, designers and manufacturers of exclusive Range Rover enhancements since 1975, are joining forces to create the ultimate luxury off-roader.
The Holland & Holland Range Rover was conceived with a single intention: to create an all purpose, all season, luxury supercar for the discerning few. Designers and engineers at both Holland & Holland and Overfinch have worked together to create a car that embodies Holland & Holland's unique sporting heritage and Overfinch's bespoke craftsmanship. The result is a quintessentially English take on luxury.
Based on either the 5.0 litre 503 bhp Supercharged or TDV8 versions of the new 2010 MY car, the Holland & Holland Overfinch features a raft of enhancements that make it unmistakably something very special.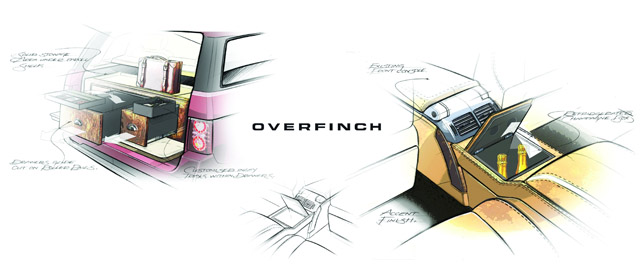 Daryl Greatrex, Managing Director of Holland & Holland, said, "Holland & Holland is globally synonymous with both luxury and supreme functionality. To look at, to handle and shoot with a Holland & Holland is to appreciate 174 years of using the best craftsmanship and technology to make things work supremely well and look even better. It's ten years since we had a Holland & Holland Range Rover and we decided that working with Overfinch was the only way to do it this time. Over the years it has become clear that what AMG is to Mercedes and Alpina is to BMW, so Overfinch is to Range Rover."
Neil Underwood, Chief Operating Officer of Overfinch added, "There has always been a great deal of talk in the media, speculating that Range Rovers could start approaching Bentley levels of luxury - for one hundred fortunate customers, that will now become a reality. We have worked closely with designers, engineers and the quite astonishing craftsmen of Holland & Holland, who have helped us create the most exclusive, most luxurious off-roader ever built."