Land Rover SVO and Holland & Holland Reveal the Most Luxurious and Expensive Range Rover Ever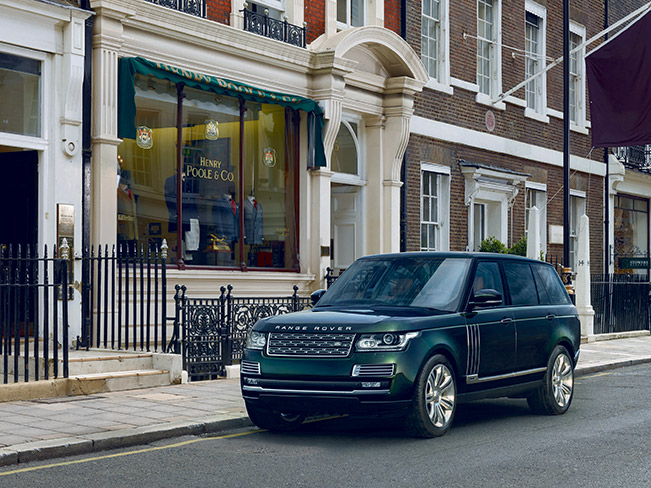 Land Rover Special Vehicle Operations (SVO) in collaboration with British gun-maker company Holland & Holland have unveiled a special edition of the Range Rover which is thought of as the most expensive and most luxurious Range Rover ever. Combining eccentric style and bespoke design, this is a car for real connoisseurs. And even though I am not a huge fan of Range Rovers, I have to admit that this one in particular gives me the chills. Especially when I look at the interior.
The previously considered as the most expensive Range Rover Autobiography Black long wheelbase which costs £146,900 is no longer on the top of the price-ladder. It has been uncrowned by the 2015 Range Rover by Land Rover Special Vehicle Operations and Holland & Holland priced at £180,000. Sitting on the throne, the special 2015 Range Rover is said to be distinguishable since it encapsulates demonstratively excellent off- and on-road performance as well as splendor and workmanship. The Holland & Holland Range Rover arrives with an option of powertrains. There is a diesel-powered 4.4-litre SDV8, which delivers 339 HP (252 kW) and a 510PS petrol-powered 5.0-litre V8 Supercharged engine.
Thanks to the professional skills and effort of Holland & Holland, the new Range Rover shines with one of a kind bodywork, mirrors and bonnet vent. The grille is painted in the same intensive and saturated green color and has chrome highlights. In addition, Holland & Holland badging is placed on the lower accent door badges of both long and standard wheelbase versions and on the tailgate too.
The interior, though, is what strikes the most. If perfectness was a physical thing, then, 2015 Range Rover has got it! On the inside the vehicle benefits from soft tan and espresso leather upholstery including Holland & Holland embroidery placed on the front seats. The sides of the transmission tunnel are trimmed in a similar leather too. In order to complete this craftsmanship, there is a sustainably-sourced French walnut veneer that is carefully polished in order to resemble the oil-finished gunstocks produced by Holland & Holland. To mark this, their logo is inlaid into the front center console. The car's woodwork is made from a single huge piece of walnut, 1500mm long by 500mm wide, to ensure that every veneer is perfectly matched. A final touch adds the deployable loadspace floor which is engineered from aluminum and carbon fiber with a leather and wood veneer finish.
Source: Land Rover