Own A Civic For A Fiver A Month
Honda customers can get behind the wheel of a Civic for as little as £5 a month thanks to a range of incentives tailor-made to meet their individual requirements.Honda's sensational 50:50 offer (launched on Jazz earlier this year) is now available on all Civic models too, which means a new customer pays 50 per cent of the full list price, followed by 11 monthly payments of £5 at the ultra-low rate of 1.9 per cent APR. After this, customers can either make the second 50 per cent payment or upgrade to another brand new Civic.
It's even better for those customers part-exchanging a car who could effectively drive away in a new Civic without putting their hand in their pocket at all!
There's also a variety of competitive PCPs on Jazz and Civic, all at 6.9 per cent APR with just 10 per cent deposit. These are designed for customers wishing to pay monthly or with less money upfront. See the accompanying table for details.
Alternatively, customers can choose a two-year free servicing pack to keep their Civic in tip-top nick, with the option to upgrade to a five year service pack for just £300 on petrol models and £500 for diesels.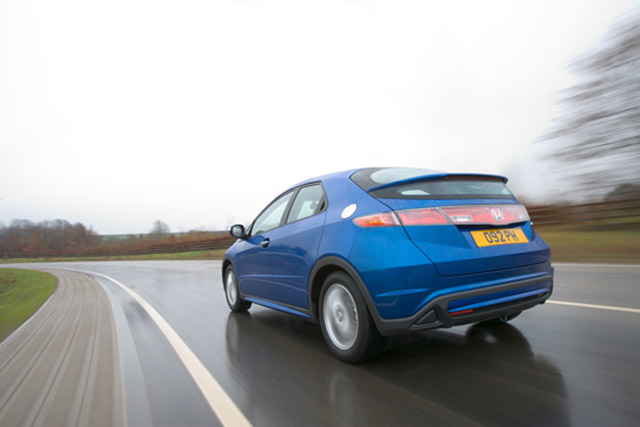 SE+ across the range
The Civic SE+ specification, which includes an image pack of body-coloured skirts and spoiler on top of the standard SE grade, has now been extended to all three engine derivatives for the same price as the standard Civic SE. (Civic 1.4 SE - £14,490; Civic 1.8 SE - £15,140; Civic 2.2 SE - £16,440)
Contract Hire
Honda's high-revving Civic Type R is available from £247 per month on a contract hire basis, making it the most competitive offering in the hot hatch sector. In addition, the technologically-advanced, high specification Legend is available for £399 per month or £425 with ADAS (Advanced Driver Assist System).
Civic, CR-V and FR-V are also available on contract hire based on a three year contract, with three months deposit and 35 monthly payments.
Finally, for customers who really want to take care of their shiny new Civic 5-door, there is a accessories package worth £350 available for just £225. This includes front and rear elegance floor mats, trunk tray, front and rear mudguards and stainless steel doorstep garnish.