2015 Panoz Esperante Spyder GT Shows 560 hp at SEMA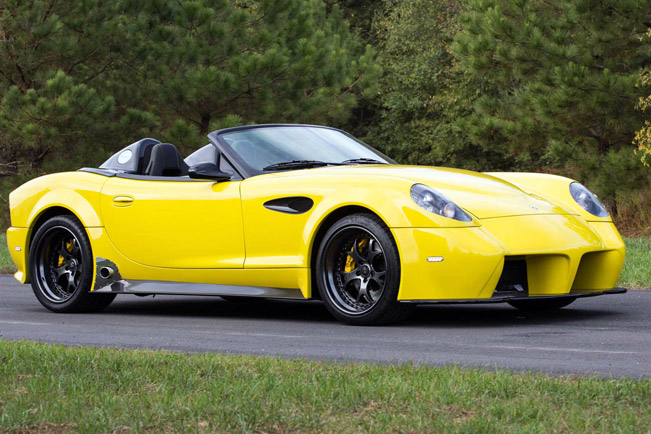 This is 25th Anniversary Edition Esperante Spyder GT which is capable of 560 horsepower! Of course, where this car belongs is at this year's Specialty Equipment Manufacturers Association (SEMA) Show in Las Vegas, and this is the reason why we present it to you. The production of the model will be strictly limited, thus staying exclusive and keeping with company's aim to deliver exclusive, American-made and custom hand-built sports cars.
Esperante Spyder GT has no roof and can offer space for two persons only. The visual dynamic sportiness of the car further strengthened by the carbon fiber panel that conceals the functional twin roll hoops, the shorter windshield reinforced by tubular steel A-pillars with carbon fiber windshield frame.
Inside, the pilot and the co-pilot will enjoy a full leather interior with Alcantara accents on the seats, dash, door panels, center console, and as inserts on the Spyder's carbon fiber Spyder shell. On the leather we can see that a contrasting stitching is present. What we can also see is that the leather dash features a big10.6-inch ID4Motion digital instrument display, showing important functions.
The supercharged 560 horsepower (412 kW) powerplant is mated with a close-ratio Tremec T56 Magnum six-speed manual transmission. And this is as standard equipment! The option (and my least favorite) is the six-speed automatic transmission with paddle shifters. Those who desire more power can opt for custom build engine, which will generate more than 800 horsepower (588 kW).
In addition to the higher output V8 under the hood, other key upgrades include wide body carbon composite and aluminum body, exterior styling reminiscent of the Le Mans-winning Esperante GTLM race car as well as side exhausts like the Panoz Esperante GT2 race car.
Clear-coated carbon fiber is used for the front splitter, rear diffuser and side skirts, taillight and rear trunk panels. The car runs on custom 19 inch wheels, which are fitted with Brembo® six- and four- piston monobloc front and rear calipers, respectively. The LED taillights are the last element which can't be skipped.
2015 Panoz Esperante Spyder GT 25th Anniversary Edition is priced at $204,750 USD.
Source: Panoz LLC