Ken Block Unveils the EXCLUSIVE Hoonigan Ford Mustang RTR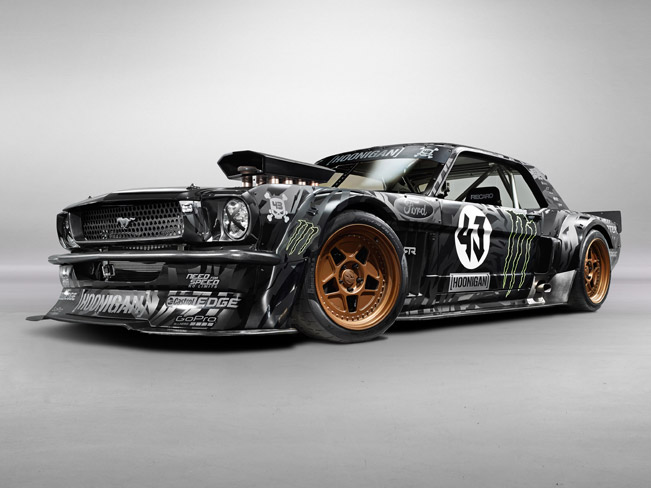 We haven't seen a tuning like this for a long time. The Hoonigan Ford Mustang RTR by Ken Block is breath-taking at first glance and I'm sure you are going to fall in love with it as I did. The muscle beast was showed for the first time at Ford's booth at this year's SEMA Show. As you can see the project is completely unique. It is based on world's first performance all-wheel drive 1965 Ford Mustang notchback, and is a result of the collaborative effort between Block, Hoonigan and RTR.
The pony car was heavily modified by RTR and ASD Motorsports and is powered by a 410 cubic inch Roush Yates V8 engine which boasts 845 hp (621 kW) and 976 Nm (720 lb.ft)!!! This force is coupled with a one-off six-speed Sadev SC90-24all-wheel drive system, featuring a hydraulic handbrake system.
Block unveiled that he and the other teams have been working on this project for more than two years. And now it has come fully to fruition. The racer will be competing with the special Mustang at the Gymkhana SEVEN, and by far, I must say, this is the best Gymkhana car we have ever seen.
The suspension of the special car is delivered by ASD Motorsports, as well as the full tubular chassis, custom roll-cage, door bars and front and rear suspension mounts. RTR made the carbon fiber body panels, while the wide body of the car was designed by RTR, Ken Block and Hoonigan.
We can't pass by the fifteen 52 three-piece R40 wheels in the size of 18" x10.5", which were fitted with 295/30/18 Pirelli Trofeo R tyres. All in all, this bad boy has made our day: it is one-off, absolutely adorable and has a lot of power and potential to show. Good work Hoonigan!
Source: Hoonigan Racing