Porsche 911 Turbo Cabriolet by Porsche Exclusive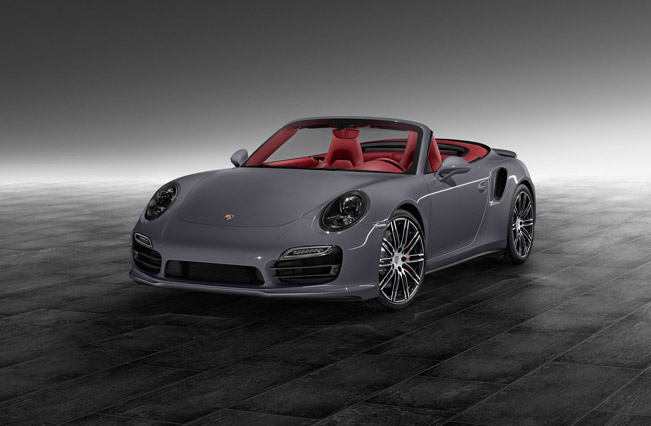 Porsche 911 Turbo Cabriolet by Porsche Exclusive is a demo vehicle which we have just found at Porsche's official Facebook page. The brand has published scarce information about the car, but we were delighted to see more than just one picture, which you can view below. The project by Porsche Exclusive is stunning and immediately catches the eye. At first glance, one can see the contrast between the Slate Grey paint job and the red interior.
The 911 Turbo Cabriolet has been fitted with Bi-Xenon main headlights finished in black. They include Porsche's Dynamic Light System (PDLS) and headlight cleaning system painted. In addition, the powerful exterior presence of this vehicle is further reinforced by the 20-inch 911 Turbo wheels on which it runs. They are painted in high-gloss black.
Furthermore, the company has decided to personalize this cabrio even more by giving it personalised door sill guards made of carbon fiber. But this was not enough for the designers so they decided to illuminate them.
Inside, the interior is wrapped in Garnet Red leather and features decorative stitching in contrasting black. In fact, Porsche have added here its PCM package which comprises of air vents in leather and centre console trim in carbon fiber.
2014 Porsche 911 Turbo Cabriolet made an official debut at Los Angeles Auto Show in November last year. As a matter of fact, it is the most expensive Porsche one can order with a price tag of $193,900 USD.
The car is powered by a 3.8 liter turbocharged flat-six engine, generating up to 560 horsepower (412 kW). It sprints from 0 to 100 km/h in 3.1 seconds on its way to a top speed of 314 km/h (195 mph). The combined fuel consumption in accordance with EU 6 is 9.7 l/100km, while the CO2 emissions are estimated at 227 g/km. s
Source: Porsche via Facebook