TIP-Exclusive creates one-off arty Porsche 911 Turbo Cabriolet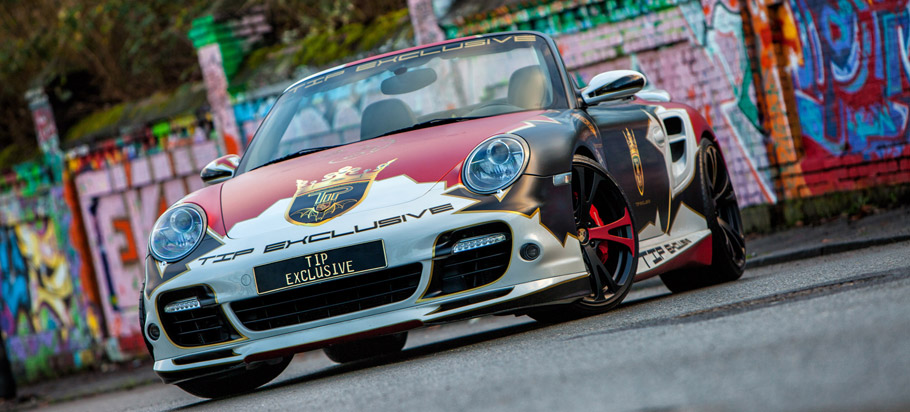 Besides the Volkswagen Golf 7 GTI Clubsport, another car which is celebrating its 40th anniversary is the Porsche 911 Turbo. Since the introduction of the original 911 in 1964, the car has become a legend, and the 911 Turbo was the first turbocharged production sportscar ever! We won't discuss the vast advantages of the model over its competitors, but when the Porsche 997 Turbo came out, it was praised as the best all-round sports car of its time! It also got a Cabriolet variant, which was the icing on the cake.
Exactly a Porsche 997 Turbo Cabriolet in white is used by the specialists at TIP-Exclusive in their project. In fact, the car depicted in the gallery below belongs to the owner of the company, Tim Lindenau.
Exterior & Mechanics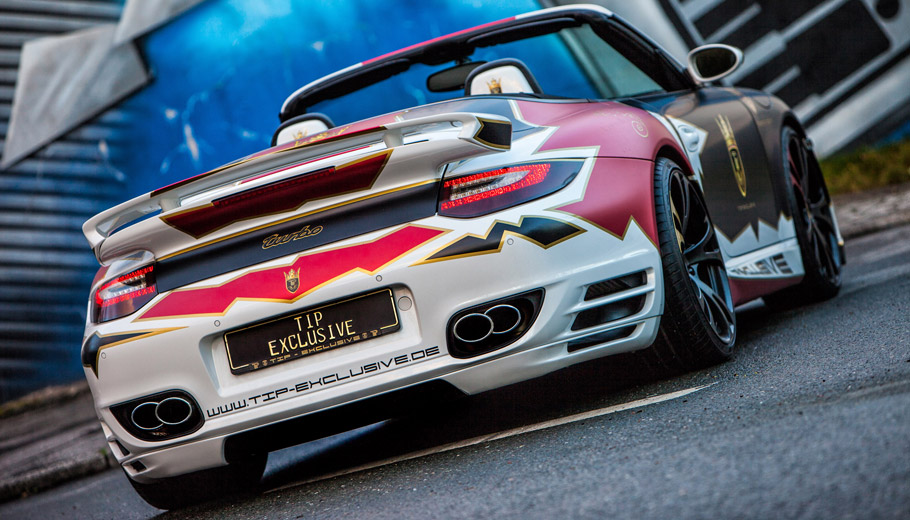 The first thing you see here is the elaborate multi-colored wrap design scheme. Through a skilful use of foil, the team created a masterpiece from matt red and satin black surfaces with golden borders. Have you spotted that even the black wheels were given motifs of color? Precisely, the five double spokes of the front wheels are foiled in red, while one spoke on each of its rear counterparts was foiled in gold.
SEE ALSO: Winter Facelifts by Porsche are Here!
By the way, the alloys here were delivered by TechArt and the chosen size is 20-inches for all four corners. In addition, Techart also made the body kit, which includes custom front spoilers, side skirts, rear valance with underbody diffuser and electrically adjustable rear wing.
At the back, the car features changed rear lights. The original ones were substituted with the more angular rear lights from the face-lifted version. In addition, the soundtrack was enhanced with a variable flap sport exhaust system with double oval tailpipes. At last, the ride height was lowered with KW coilover suspension.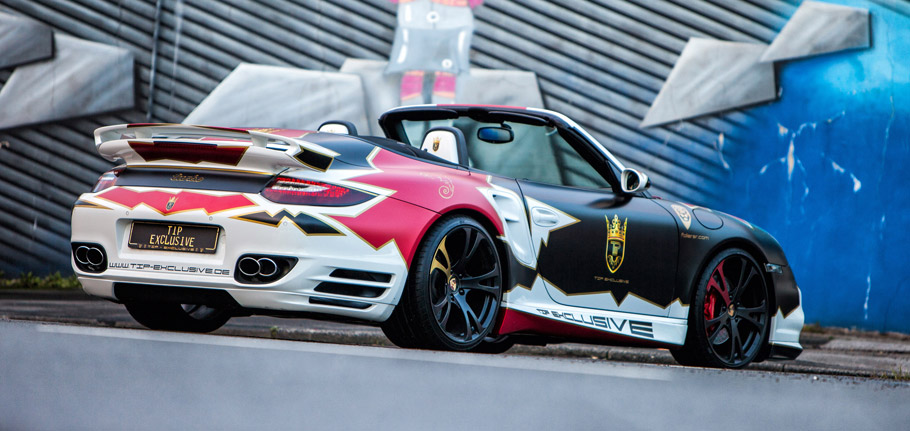 Interior
We can't show you the interior, because we didn't receive any pictures. However, trusting the press release, the sporty interior includes factory Sport Chrono package and leather upholstery, illuminated carbon doorsill plates, bespoke floor mats with high quality fabric and leather piping.
What do you think?
Source: TIP-Exclusive