Porsche 918 Spyder and 911 50th Anniversary Edition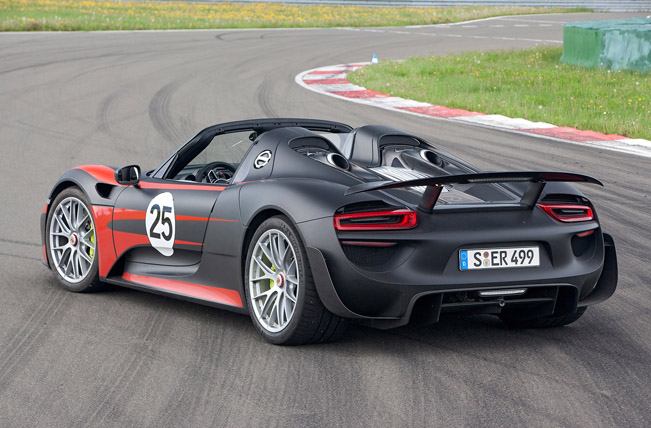 Porsche is going to present the new 911 GT3 cup, 918 Spyder and the 911 50th Anniversary Edition at the Pebble Beach Concours d'Elegance.
Porsche 918 Spyder is powered by a 4.6 liter twin-turbocharged V8 with 608HP (447 kW) and 530Nm (391 lb-ft) of torque. There are also two electric motors with 156HP (115 kW) and 129HP (95 kW) at each axle (front and rear). The maximum combined output is 887HP (661 kW) and over 800Nm (590 lb-ft) of torque. 0-100 km/h in 2.8 seconds and a top speed of 340 km/h (211 mph). The 918 Spyder managed to lap the Nurburgring in just 7 minutes and 14 seconds.
A 1972 Martini 2.1 Turbo RSR, the 1978 "Moby Dick" 935, the 1978 "Baby" 935 and not one, but two 911 GT1s will be on display in the garage area of Laguna Seca, before they move to Pebble Beach Concours d'Elegance for display on Sunday. The latest 911 GT3 Cup car which will race next year in the United Sports Car Racing (USCR) series will debut and be on display all weekend at Laguna Seca.
Source: Porsche