Porsche 918 Spyder concept debuts at Goodwood
Porsche 918 Spyder concept has just made its debut at the Goodwood Festival of Speed. It was introduced to the wide public back in the 2010 at the Geneva Motor Show, where it gathered praises and received overwhelming reaction from the sports car enthusiasts.
918 Spyder has unique hybrid technology, thanks to Porsche's Intelligent Performance system. The latter is responsible for the estimated fuel consumption of the car of 3 liters per kilometer (or 94 mpg), equating to CO2 emissions of 70 g/km. The supercar is equipped with V8 petrol engine which generates more than 500 hp (368 kW). In addition this engine is assisted by two electric motors with a total of 160 kW (218hp).
The energy storage unit is a liquid-cooled lithium-ion battery that can be charged from a conventional domestic power socket, delivering a range in excess of 25km (16 miles) in the NEDC on purely electric power.
Thanks to the great power it has, this super sports car accelerates from 0 to 100 km/h (62 mph) in a maximum of 3.2 seconds and has a top speed of more than 320 km/h (199 mph).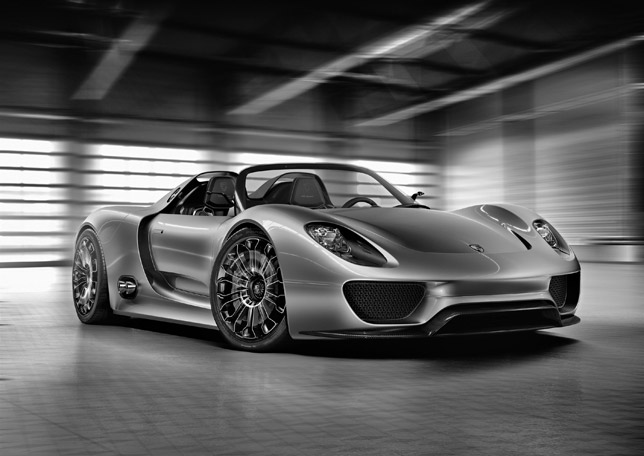 Porsche 918 Spyder concept
And what about the design of this concept? As you can see it carries the design DNA of the Carrera GT and Porsche 917 race car, as well as the RS Spyder. Despite all the similarities, the production version of the two-seater will include a manual roof system with removable roof panels which can be stowed in the front luggage compartment.
First prototypes of the 918 Spyder are currently undergoing their final specification definition. They will include groundbreaking solutions such as the full carbon fibre reinforced plastic (CFRP) monocoque with unit carrier, fully adaptive aerodynamics, adaptive rear axle steering and the upward-venting 'top pipes' exhaust system.
Production of the 918 Spyder will start in September 2013, and will be limited up to 918 units. The delivery of the first vehicles will begin in November 2013 and will be priced from 645 000 Euro.
Porsche 918 Spyder Specifications:
| | |
| --- | --- |
| Body: | Two-seater Spyder; carbon fibre reinforced plastics (CFRP) monocoque interlocked with CFRP unit carrier; two-piece Targa roof; fixed roll-over protection system. |
| | |
| Drivetrain: | Parallel full hybrid; 4.6-litre V8 mid-engine with dry sump lubrication; hybrid module with electric motor and decoupler; electric motor with decoupler and gear unit on front axle; electrical system recuperation; four cooling circuits for motors, transmission and battery; thermal management. |
| | |
| Engine Power: | > 570 hp (V8 engine) ~ 90 kW (hybrid module on rear axle) ~ 80 kW (electric motor on front axle) > 770 hp (combined) |
| | |
| Suspension: | Double-wishbone front axle; optional electro-pneumatic lift system on front axle; electro-mechanical power steering; multi-link rear axle with adaptive electromechanical system for individual rear wheel steering |
| | |
| Brake system: | High-performance hybrid brake system with adaptive recuperation; ceramic brake discs (PCCB). |
| | |
| Energy supply: | Lithium-ion battery with 6.8 kWh capacity (BOL nominal), 202 kW maximum power and mains compatible plug-in charger. |
| | |
| Performance: | Top speed > 325 km/h  (201mph) purely electric > 150 km/h  (93mph) Acceleration: 0 – 100 km/h < 3.0 s |
| | |
| Consumption (NEDC): | Total ~ 3.0 l/100 km  (94 mpg) |
| | |
| CO2 emissions: | Total ~ 70 g/km |
| | |
| Range: | Purely electric > 25 km (15 miles) |
Source: Porsche