Porsche Unveils Martini Lineup Including 911, Macan, Panamera and Cayenne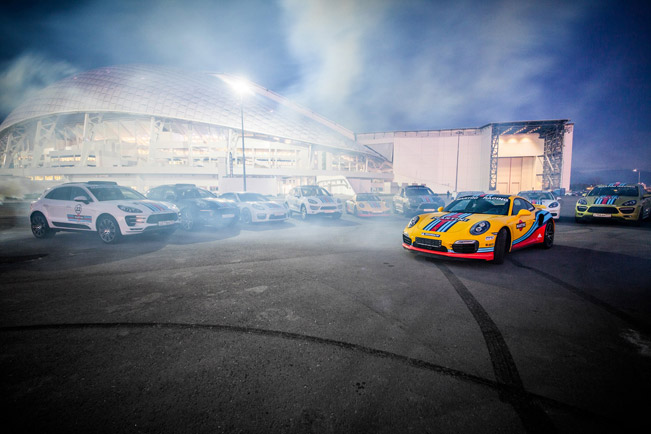 Porsche has revealed on its official Facebook page its glamorous Martini lineup of vehicles. It includes a yellow 911, green Macan, white Panamera and blue Cayenne. In fact, the iconic Martini Racing stripes have been caught by a photographer on the streets of Sochi, Russia. The result is a stunning picture gallery which you can view below. With it Porsche is celebrating a famous past but also a legendary return.
There is nothing much said about the vehicles, except for their fuel efficiency and CO2 emission figures. Precisely, the 911 models need around 8.2 - 12.4l/100km of gasoline, while they emit 191 - 289g/km of CO2. These numbers for the Panamera are as follows: 6.4 - 10.7l/100km and CO2 emission of 169 – 249g/km. The Macan needs 6.1 – 9.2l to cover 100km, while it emits 159 - 216 g/km of CO2.
The big question is why these sports cars and luxury crossovers were at the site of this resort. And perhaps we will have to wait some more time to understand. The latest edition with the Martini livery revealed before this lineup is the 2014 Porsche 911 S Martini Racing Edition.
It will be produced in only 80 examples and will feature as a standard the Sport Chrono package and a sport steering wheel. Other standard extras include Porsche Communication Management (PCM), black leather-wrapped electric sport seats, tachometer with black gauge and a Bose premium audio system.
In particular, the car is offered in two colors: white and black, which both feature Martini's traditional blue-red color scheme on the roof, rear wing, boot lid and sides. Special features here include stainless steel door sill panels with "911 Carrera S – Martini Racing Edition" illuminated lettering, Aerokit Cup front apron and fixed rear spoiler.
This Porsche is driven by the 3.8 liter flat-six engine which produces 400 horsepower (294 kW) at 7,400RPM and 440 Nm (326 lb-ft) at 5,600RPM. It is no surprise then that the car needs only 4.1 seconds to cover the sprint from standstill to 100 km/h on its way to a top speed of 302 km/h (187 mph).
Source: Porsche via Facebook