Prindiville Design Land Rover Defender
If you want something really exclusive, Prindiville Design might have the solution – the Limited Edition Land Rover Defender. There are only 25 units available worldwide and all have been assembled by hand. Performance has been tweaked by Defender specialists, Alive Tuning.
Prindiville began with a standard Defender 90 Hard Top and, being proficient coachbuilders, completely overhauled the exterior and interior. Enhancements to the suspension, braking system, cooling, and engine on the other hand, have been made by the Lincolnshire-based Alive Tuning company.
Customers decide upon choosing a body color that will best match the Prindiville designed exterior complete with a titanium high performance sports exhaust, chrome side protection runners, LED front and rear headlamps and a ribbed undershield. Also provided are the front and rear parking sensors and cameras. Four 18-inch five-spoke alloy wheels harbor Prindiville six-pot callipers and sport discs. For the ultimate road stance and balance some performance springs have been thrown in as well.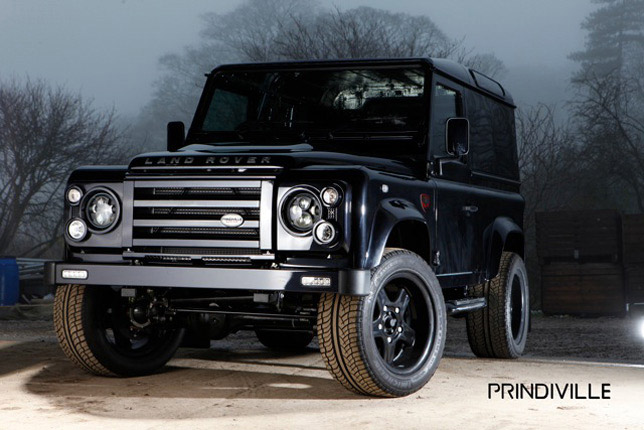 Inside the Cobra sport seats are wrapped in Italy's finest hide which can also be found on the steering wheel. The Alcantra driver and passenger carpets, the unique center console storage unit are all coordinated with the overall color of choice. Every single Prindiville Defender has a unique number (naturally up to 25) aluminum plate on the dashboard, commemorating the series in the coachbuilder's prestigious collection.
Soundproofing the cabin is not only beneficial in reducing engine noise but it also creates an adequate environment to indulge ourselves in the Prindiville provided multimedia systems - a five-inch built-in LCD television interface providing access to wireless Internet, a DVD player, satellite navigation, 360-degree external vision, surround sound from four loudspeakers.
The Limited Edition offers a choice of four different power upgrades, which gradually increase the output of the 2.4-litre TDi powerplant from 122 to 190 bhp. Add to that a dual-range six speed transmission, which can be further upgraded to an automatic or tiptronic gearbox you get an off-roader like no other. Street performance on the other hand is further enhanced with the addition of a high flow intercooler, silicone hoses and a turbocharger. You'll be going from 0 to 60 mph in just 10 seconds with that package. Yikes!
Source: Prindiville Design