Prior-Design meets Vossen Wheels in a cool Mercedes-AMG GT S project and everything is shot in Monaco

What happens when two very posh companies that offer additional style for you vehicle work together? It happens projects like this. The unique Mercedes-AMG GT S has been updated by Prior-Design in general, but instead of the standard wheels that come with the wide-body kit they offer, it has been fitted with Vossen ones. What is more, the car has been photographed in one of the most beautiful places on Earth: Monaco! Is it the place that makes this car so attractive or?
Prior-Design Mercedes-AMG GT S has taken part in the 2016 Supercars Monaco Prior-Design Tour, which aimed at showing custom-made wide-body kits on some of the fastest models in the automotive world.
Prior-Design PD800 GT
This is the name of the new wide-body kit by the specialists at Prior-Design. As you can expect, it not only makes the car more individual (in terms of looks), but it also takes care for its performance abilities, although in an indirect way.
SEE ALSO: Prior-Design is killing it with the Audi RS6/A6 Avant PD600R project
To go into details, the pack comprises of some cool parts like a front add-on spoiler and trunk spoiler, brand new side skirts, rear diffuser at the back, front and rear flared arches as well as custom canards and air intake panels. The result leaves us speechless. Oh and there is a custom bonnet on the way, too.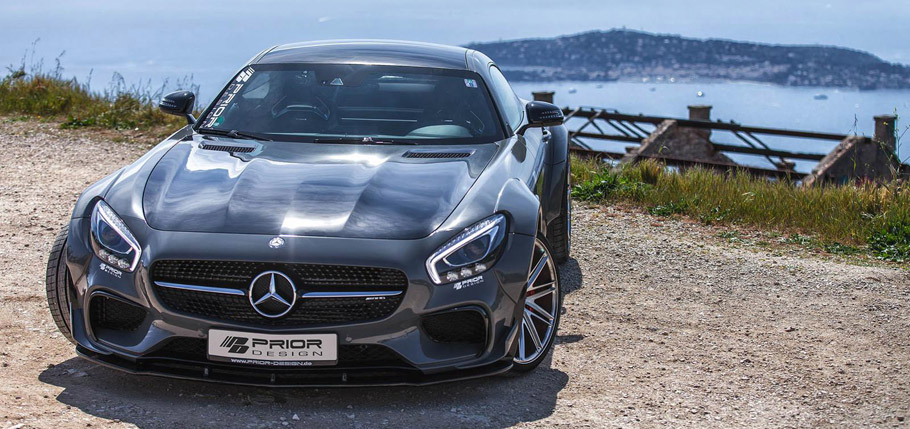 Originally this kit comes with the in-house made PD3Forged Superlight wheels. However in this case Vossen Wheels has stepped in bringing about more exclusivity than ever. Here you look at huge VPS-307 Vossen alloys fitted with low profiles.
Most definitely this tuning pack will help the supercar release its inherent power: 510 hp (375 kW) and 650 Nm (480 lb-ft) of torque. Just to remind you, the sprint the AMG GT S is making to 100 km/h from standstill is in only 3.8 seconds, while the Vmax has been positioned at 310 km/h (192 mph).
Source: Prior-Design & Vossen Wheels via Facebook