Qoros 9 Sedan Concept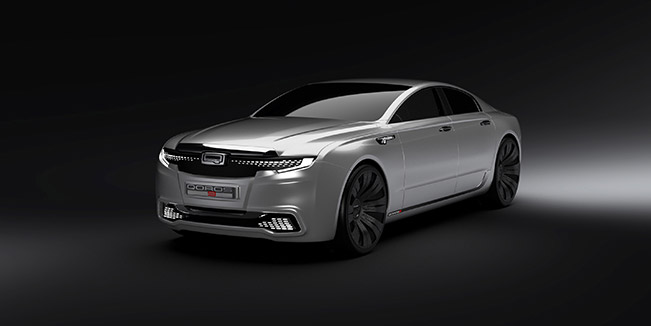 Qoros has already presented several models as the 3 Sedan is currently on sale in China and Slovakia. The 3 Hatch model will be also available on the market in a couple of months. Now, the manufacturer has presented the Qoros 9 Sedan Concept, which displays a next-generation interpretation of Qoros' pioneering New Premium philosophy.
The Qoros 9 Sedan Concept boasts clean horizontal lines and generous proportions. The vehicle features modern and distinctive look as well as some new technologies. The side profile is elegant and powerful, with a bluff leading edge and coupe-like rear end. There is also a trapezoidal grille with a chrome surround, flanked by powerful LED Xenon headlamps and fog lamps.
The Qoros 9 Sedan Concept has no traditional door mirrors; instead, a high-definition rear-view camera is discreetly integrated into the LED side indicator repeater module just below the base of each A-pillar. Perforated and diamond-cut eight-spoke 19-inch alloy wheels exude dynamism and a premium feel.
"Qoros is a rapidly growing brand and we are dedicated to helping and educating young, up-and-coming talent. Finding the very best talent will be a crucial success factor for our company in the future. Jihoon is the eighth design intern we have welcomed at Qoros in just the past few years and we will continue to offer internships to the brightest students.", commented Qoros' Executive Director of Design, Gert Volker Hildebrand.
"Our internship programme also allows us to give something back, offering the same opportunity today that many of us in the Qoros design team benefited from when we were students or working in our earliest days in automotive design. Jihoon is a very talented young designer and it's been our pleasure to be involved in helping him on the first steps of his career," added Hildebrand.
Source: Qoros