Racing One Audi R8 V10 5.2 Quattro
Racing One has announced their tuning package for Audi R8 V10 5.2 Quattro. The company is motor sports service provider and event organizer from Rhineland.
The tuned Audi R8 received full styling and performance packages. The mighty 5.2 liter V10 from Gallardo is pumped to 610HP (449 kW) thanks to a new ECU re-map and a complete Akrapovic sport titanium exhaust system.
The suspension has been also revised with 2-way MDS dampers from Bilstein Motorsport, brake pads by Performance Friction Brakes and in-house brake cooling. The interior received 6-point belts, braces and fire extinguisher. For perfection traction, Racing One has installed a complete set of semi-slicks.
The exterior is styled by Cam Shaft Kempen. The complete rebuild of Audi R8 V10 5.2 is € 26 000.
Check out the full list of events for 2012 below.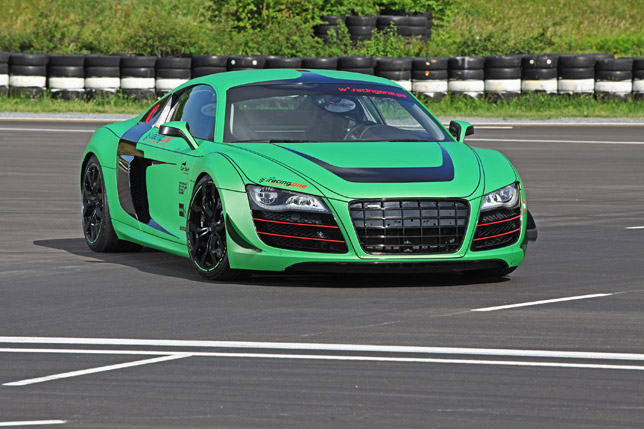 Events 2012:
Below you will find an overview of the planned event days.
Fascination V10 & R8 Co-PilotRide
Event location: Hockenheimring
Sunday, May 20, 2012
Monday, May 21, 2012
Thursday, May 24, 2012
Thursday, June 21, 2012
Monday, June 25, 2012
Sunday, October, 14 2012
Event location: Bilster Berg Drive Resort
Sunday, September 09, 2012
Saturday, September 15, 2012
Sunday, September 16, 2012
Event location: EuroSpeedway Lausitz
Sunday, May 27, 2012 (Pentecost)
Friday, June15, 2012
Friday, October 05, 2012
Event location: Nürburgring
Friday, November 02, 2012
Exclusive: V10 Performance-Training
Event location: Bosch test track Boxberg
Saturday, June 09, 2012
Sunday. June,10, 2012
Saturday, September 22, 2012
Sunday, September 23, 2012
Source: Racing One