Reckless Driving in the City [video]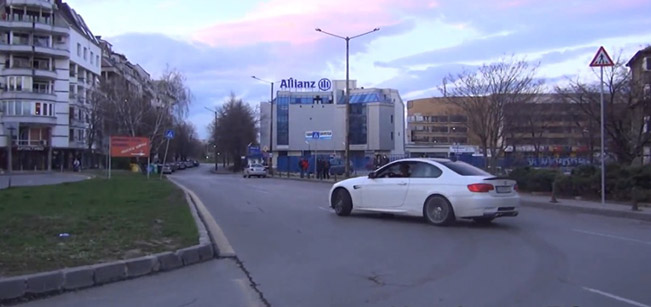 Is there better way to disturb a quiet peaceful morning in the city than driving irrationally your BMW M3 E92? The following video shows us a reckless driving "talent" cruising around in the city limits, arrogantly ignoring all laws about safety driving. Avoiding every one and everything by luck, he demonstrates how NOT to drive inside the city. The reckless driver's license plate can be clearly seen in the video, therefore, adequate actions are supposed to be taken by the authorities to track him down and start a driving license deprivation procedure.
This BMW M3 E92 specs are: Equipped with V.8 cylinder petrol engine with indirect fuel injection system, along with a manual transmission gearbox of 6 speeds. Top speed is exactly 250 km/h (155 Mph), accelerating form 0 to 100 km/h (0 to 62 mph) in 4.8 s. Maximum output is 420HP (414 bhp) (309 kW) at 8,300 rpm with a maximum torque of 400 Nm (295 lb-ft) at 3,900 rpm.
This reminds us of the infamous, amazingly skilled street drifter Giorgi Tevzadze, who lost his life not long ago in a tragic accident while being the passenger in a drift race.
Although entertaining and fun, street racing is undoubtedly too dangerous for both the street drifters and for the rest of the drivers, even more the innocent pedestrians. This kind of racing must be conducted only on the race track. There, the adrenaline junkies can freely drive to the limits, with only the difference that they are threatening their own lifes alone, and maybe crashing a nice car.
Drifting on public roads is illegal!