Regula Audi R8 with Grandiose Bodykit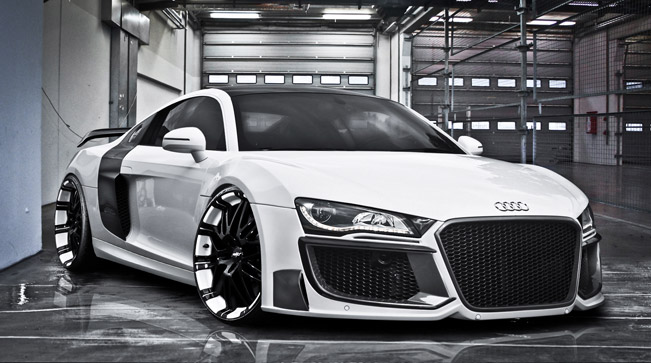 The latest work of the specialist from Regula Tuning is on Audi R8, which is the first mid-engined sports car is approved as a production vehicle for the road. With the mounting position of the engine in the all-aluminum body, a great weight distribution of 44 to 56 percent between the front and rear axle is achieved. In fact, with this model, in particular the prototype, Audi won at Le Mans five times.
And as you can see from the pictures the R8 Coupé modified here undergone miraculous metamorphosis. The specialists from the German city Schwerte enhanced this special car with aromatic polyamide body kit that brings the vehicle closer to the perfect race machine with road approval.
Furthermore, only raw materials with highest quality were utilized, whereas the permanent quality controls deliver high standard of product flexibility with also an extremely smooth surface.
Next, the central air inlet and the two lateral "fellows" under the headlights look as if they want to absorb everything that faces them in their way. Moreover, what's pretty impressive is the wheel and tire combination.
Here it is 20 inch Oxigin wheels model Oxrock with a width of 8.5 inches at the front and 11 inches at the rear. The tires perfectly match them in size with the dimensions of 235/30 R20 at the front and 295/25 R20 at the rear.
And at last, but also very important is the enhancement which Regula made in terms of power. The Audi originally generates the significant 525 hp (386 kW), but after the tuning its output is increased up to 560 hp (412 kW).
Source: Regula Tuning