Renault Clio RS Red Bull Racing RB7
Renault has announced their special edition Clio RS Red Bull Racing RB7. Actually, the model capitalises on the basic model's acclaimed strengths, something which is sure not to escape sporting car and motorsport enthusiasts.
"Clio R.S. Red Bull Racing RB7 is a hot hatch combining stunning looks with the very latest features to have been developed by the wizards at Renault Sport Technologies," commented Jean-Maxime Boulanger, Clio Renault Sport Product Manager.
"Clio R.S. Red Bull Racing RB7 is a dynamic car which will definitely turn heads. It is a tribute to the very close ties that exist between Renault Sport Technologies and Renault Sport F1!", he added.
The Clio RS RB7 boasts a nice Profond Black exterior with some yellow accents, checkered decal and of course Red Bull badges. The exterior is completed by a set of nice 18" alloy wheels fitted with performance tires -  Bridgestone RE050A.
It is powered by a 2.0 liter four-cylinder petrol engine with 203PS (149 kW) and 215Nm (159 lb-ft). 0-100 km/h in 6.9 seconds and a top speed of 225 km/h (140 mph).
The price for this toy is not low - €27 900. It will be available in France, Spain, Switzerland, Belgium and Austria.
Clio R.S. Red Bull Racing RB7 badge is the first limited edition in a series which go on to include Twingo R.S. and Megane R.S.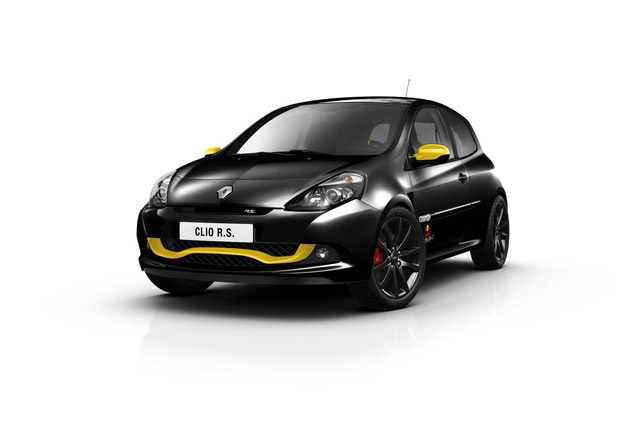 Source: Renault