Renault launches 2009 Scenic Range
The compact MPV pioneer, Renault Scénic, continues to lead the way in the style and practicality stakes.  To ensure it stays at the forefront of the highly-competitive sector, it has been revised for the 2009 model year, including the introduction of a new special edition designed to tempt retail buyers.
Externally, the three-model Scénic range benefits from a front end facelift with new chrome-effect grille and black headlight surrounds, as seen on the sporty GT versions of Mégane and New Laguna respectively.
In addition to the styling updates, among the main changes to the range for 2009 is the launch of a new special edition 'Team', which arrives to replace the former Extreme and Expression trim levels. Available on all three models in the range: Scénic five- and seven-seat Grand Scénic, the new versions are priced from £14,495 on the road.  With an increase in equipment, but the same entry price as the out-going Extreme, the Team is especially good value.
Featuring an impressive equipment list and plenty of Gallic style, on the outside, the entry-level newcomer boasts all-round metallic paint, satin chrome finish door handles and body-coloured door mirrors, while on the inside, it benefits from air conditioning, RDS CD-radio, leather steering wheel, automatic handbrake and front and rear electric windows.
The style continues on the inside with dark grey upholstery with blue stitching and the same charcoal cabin finish as seen on Dynamique versions.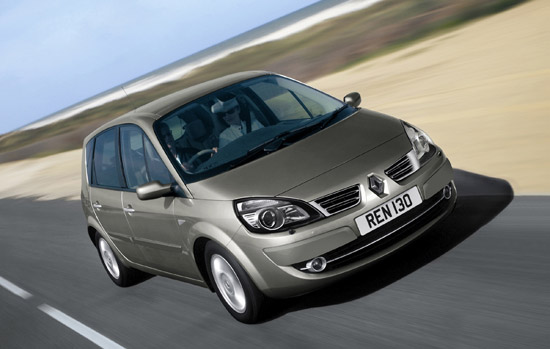 Full pricing for the new Team versions is:
| | | |
| --- | --- | --- |
| Model | Engine | OTR Price |
| Scénic | 1.4 16V | £14,495 |
| | 1.6 VVT 111 | £14,995 |
| | 1.6 VVT 111 Auto | £15,995 |
| | 1.5 dCi 86 | £15,395 |
| | 1.5 dCi 106 | £16,085 |
| Grand Scénic 5-seat | 1.6 VVT 111 | £15,745 |
| | 1.5 dCi 106 | £16,835 |
| | 1.9 dCi 130 | £17,935 |
| | 1.9 dCi 130 FAP Auto | £18,940 |
| Grand Scénic 7-seat | 1.6 VVT 111 | £15,995 |
| | 1.5 dCi 106 | £17,085 |
| | 1.9 dCi 130 | £18,185 |
| | 1.9 dCi 130 FAP Auto | £19,190 |
The rest of the range remains largely unchanged, with Conquest solely available on Scénic, and Dynamique and Dynamique S available across all three models.
Over and above 'Team', Dynamique adds 16" alloy wheels, category 1 alarm, front fog lamps, cruise control and speed limiter, while the flagship trim, Dynamique S, offers automatic lights and wipers, climate control, extra tinted windows, the Hands Free Renault Card and sliding centre console.
A wide range of options will continue to be available to those wishing to specify their cars to even higher comfort, luxury and style levels, including:
£300 17" alloy wheels £600 4x40W Cabasse Tronic dash-mounted 6 CD multi-changer £250 Bluetooth hands free kit £400 Climate control £175 Multi-functional TunePoint £150 Opening tailgate window £400 Front and rear parking sensors £600 Panoramic electric sunroof
Option Packs
Four option packs also ensure that buyers can equip their preferred model with the optimum in ease-of-use levels, without it having to cost the earth during the economic downturn. The first, City Pack (£300), comprises rear parking sensors, automatic lights and wipers. The popular Comfort Pack now includes multi-functional TunePoint in addition to electric panoramic sunroof, Hands Free Renault Card and electrically folding door mirrors. The third, Convenience Pack, offers rear parking sensors, sliding centre console storage unit (integrated armrests, courtesy lights, accessory power point and cup holders) and transversal black roof bars. Lastly, the Handling Pack gives complete peace of mind with ESP and traction control and CSV understeer control, combined with tyre pressure monitor.
Full pricing for the remainder of the Scénic 2009 range is as follows:
Scénic
| | | |
| --- | --- | --- |
| Version | Engine | OTR Price |
| Dynamique | 1.6 VVT 111 6 speed | £17,115 |
| | 1.6 VVT 111 Auto | £18,115 |
| | 2.0 VVT 136 6 speed | £18,115 |
| | 1.5 dCi 86 | £17,505 |
| | 1.5 dCi 106 6 speed | £18,205 |
| | 1.9 dCi 130 6 speed | £19,305 |
| | 1.9 dCi 130 FAP Auto | £20,310 |
| | 2.0 dCi 150 6 speed | £20,305 |
| Dynamique S | 1.6 VVT 111 6 speed | £17,915 |
| | 1.6 VVT 111 Auto | £18,915 |
| | 2.0 VVT 136 6 speed | £18,915 |
| | 2.0 VVT 136 Auto | £19,915 |
| | 1.5 dCi 106 6 speed | £19,005 |
| | 1.9 dCi 130 6 speed | £20,105 |
| | 1.9 dCi 130 FAP Auto | £21,110 |
| | 2.0 dCi 150 6 speed | £21,105 |
| | 2.0 dCi 150 FAP Auto | £22,110 |
| Conquest | 1.6 VVT 111 6 speed | £17,515 |
| | 1.5 dCi 106 6 speed | £18,605 |
| | 1.9 dCi 130 6 speed | £19,705 |
Grand Scénic – 5-seat
| | | |
| --- | --- | --- |
| Version | Engine | OTR Price |
| Dynamique | 1.6 VVT 111 6 speed | £17,865 |
| | 2.0 VVT 136 6 speed | £18,865 |
| | 2.0 VVT 136 Auto | £19,865 |
| | 1.5 dCi 106 6 speed | £18,955 |
| | 1.9 dCi 130 6 speed | £20,055 |
| | 1.9 dCi 130 FAP Auto | £21,060 |
| | 2.0 dCi 150 6 speed | £21,055 |
| | 2.0 dCi 150 FAP Auto | £22,060 |
| Dynamique S | 1.6 VVT 111 6 speed | £18,665 |
| | 2.0 VVT 136 6 speed | £19,665 |
| | 2.0 VVT 136 Auto | £20,665 |
| | 1.5 dCi 106 6 speed | £19,755 |
| | 1.9 dCi 130 6 speed | £20,855 |
| | 1.9 dCi 130 FAP Auto | £21,860 |
| | 2.0 dCi 150 6 speed | £21,855 |
| | 2.0 dCi 150 FAP Auto | £22,860 |
Grand Scénic – 7-seat
| | | |
| --- | --- | --- |
| Version | Engine | OTR Price |
| Dynamique | 1.6 VVT 111 6 speed | £18,115 |
| | 2.0 VVT 136 6 speed | £19,115 |
| | 2.0 VVT 136 Auto | £20,115 |
| | 1.5 dCi 106 6 speed | £19,205 |
| | 1.9 dCi 130 6 speed | £20,305 |
| | 1.9 dCi 130 FAP Auto | £21,310 |
| | 2.0 dCi 150 6 speed | £21,305 |
| | 2.0 dCi 150 FAP Auto | £22,310 |
| Dynamique S | 1.6 VVT 111 6 speed | £18,915 |
| | 2.0 VVT 136 6 speed | £19,915 |
| | 2.0 VVT 136 Auto | £20,915 |
| | 1.5 dCi 106 6 speed | £20,005 |
| | 1.9 dCi 130 6 speed | £21,105 |
| | 1.9 dCi 130 FAP Auto | £22,110 |
| | 2.0 dCi 150 6 speed | £22,105 |
| | 2.0 dCi 150 FAP Auto | £23,110 |