Renault Megane RS 275 Trophy-R - King of The Ring - 7:54.3 [video]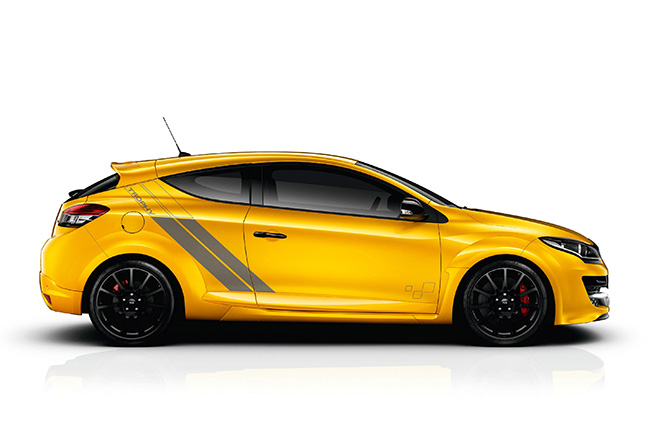 Ladies and Gentlemen, I present to you King of The Ring - Renault Megane RS 275 Trophy-R Special Edition. As expected, the ultra-hot hatchback is the new fastest car with FWD (front-wheel drive) around the Nordschleife. It managed to stop the clock at 7 minutes and 54.36 seconds, which is 4 seconds faster than the previous record holder – Sean Leon Cupra R.
2014 Renault Megane RS 275 Trophy is powered by a 2.0 liter four-cylinder turbocharged engine with 275HP (202 kW) at 5,500RPM and 360Nm (265 lb-ft) of torque at 3,000RPM – an increase of 10HP compared to the previous model. The result is thanks to a new Akrapovic titanium exhaust system which is also lighter than the standard exhaust. The hatchback is able to cover 100 km with just 7.5 liters fuel.
A lot of new modifications help the RS 275 Trophy to seize the record. These include a new Cup chassis with a limited-slip differential. There are also Öhlins Road & Track dampers with steel springs derived from the Megane N4 rally car. The new Megane RS can be also ordered with Michelin Pilot Sport Cup 2 tires available as an option.
Renaultsport has published an onboard video showing the impressive lap record.
Enjoy!
Source: Renault