Renault publishes UK Twingo pricing and more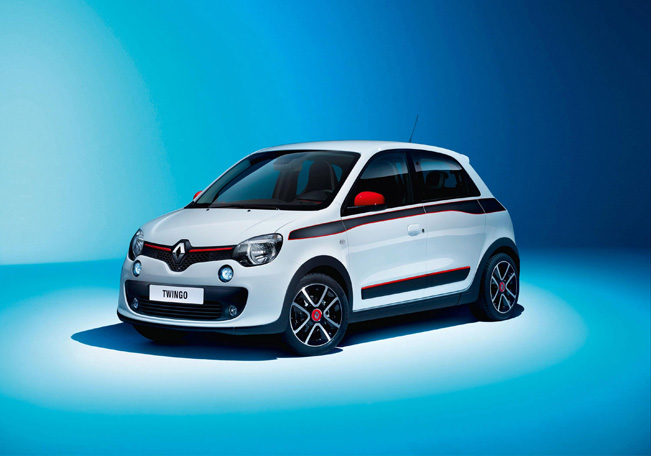 The French automaker Renault has described in detail the pricing of the upcoming third generation Twingo. The prices are valid for the UK only but they still give an idea what the new city car will cost.
Before we go to the price list we have to say that there are three versions of the all-new Twingo – Expression, Play and Dynamique with a choice of two engines – the new 1.0-liter 70 hp SCe three-cylinder normally aspirated engine and a Dynamique TCe 90 with a 0.9-liter 90 hp three-cylinder turbocharged unit. This gives a total of four models – the Expression SCe 70 will sell for GBP 9,495, the Play SCe 70 will cost GBP 9,995, while the Dynamique SCe 70 S&S and Dynamique ENERGY TCe 90 S&S will sell for GBP 10,995 and GBP 11,695, respectively.
In case you wonder what this money will get you here's some more information. The new 1.0-liter SCe three-cylinder engine delivers 70 horsepower (51 kW) at 6,000 rpm, 91 Nm (67 lb-ft) of torque at 2,850 rpm and accelerates from 0-100 km/h (0-62 mph) in 14.5 seconds, while offering a top speed of 151 km/h (94 mph). The 0.9-liter TCe 90 three-cylinder turbocharged unit offers 90 horsepower (66 kW) at 5,500 rpm and 135 Nm (100 lb-ft) of torque at 2,500 rpm; the engine can accelerate the new Twingo from 0-100 km/h (0-62 miles) in 10.8 seconds and the top speed is 166 km/h (103 mph).
The new Twingo offers much more than engines, though. For the first time in the history of the car the engine is placed in the back and drives the rear wheels; in addition to that there are five doors instead of just three. The new rear-engine layout makes the car a bit smaller and the third generation Twingo is 10 cm (4 in) shorter than its predecessor at just 3.59 meters (11.8 feet) but the wheelbase is 12 cm (4.7 in) longer at 2.49 meters (8.2 feet) and there is 22 cm (8.7 in) more cabin room. The very fuel efficient three-cylinder 12V engines now allow you to get up to 14 UK mpg (22.5 km) more than before and feature as much as 35 grams/km lower carbon dioxide emissions than the engines in the previous Twingo. Thus the Dynamique SCe 70 car with Start & Stop technology can achieve 67.3 mpg UK (4.2 liters/100 km) of fuel consumption and just 95 g/km of carbon dioxide emissions. All versions of the new Twingo exceed 60 mpg UK (4.7 liters/100 km) of mixed fuel consumption and reach 50 mpg UK (5.6 liters/100 km) in urban conditions.
On the outside the new car comes with body-colored bumpers, door handles and exterior door mirror shells, a rear spoiler and LED daytime running lights.  Comfort and convenience are provided with electric power steering, electric front windows, remote central locking, a speed limiter, a height-adjustable steering wheel, a trip computer and gearchange indicator, a lane-change function for the indicators and the automatic activation of the rear screen wiper when reverse gear is selected. The Play version adds an air conditioner, a height-adjustable driver's seat and steering wheel and 15-inch black two-tone wheel trims in place of the grey ones with Expression.
Dynamique versions add 15-inch alloy wheels, pinstripe shoulder-line decals, front fog lamps, electric heated door mirrors, cruise control, a lane departure warning system, a leather-trimmed steering wheel and gearshift knob, white instrument backlighting, a folding key and storage pockets in the rear doors. This version also benefits from Stop & Start engines that cut emissions and improve fuel economy.  The Dynamique TCe 90 is fitted with Variable Gear Ratio power-assisted steering, making the vehicle more agile and reactive at lower speeds.
All new Twingos provide connectivity through a new, smartphone-operated R & GO system that gives owners access to a variety of navigation, telephone, multimedia and trip computer functions as well as internet radio and a host of other practical features.  Dynamique models offer the option of the R-Link multimedia system with a seven-inch touch-screen, voice control, TomTom®navigation and 3D sound by Arkamys. DAB radio, Bluetooth®connectivity and USB sockets are standard on every version.
The new Twingo will be commercially available in September of this year but you can pre-order one of the models now.
Source: Renault