RENM Performance Lamborghini Gallardo STS-700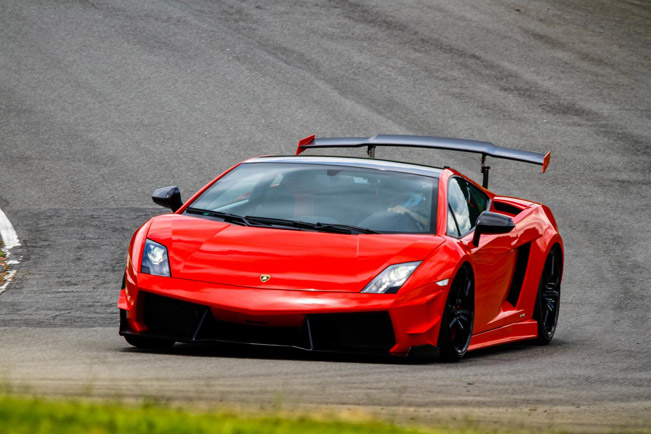 RENM Performance has presented their latest project based on Lamborghini Gallardo Super Trofeo Stradale. The already exceptional sports car is now even better. The name of the project is STS-700 and you may suggest why?
The 5.2 liter V10 engine is boosted to 700HP (515 kW) at 8,500RPM, but no words about the torque, which is probably around 650Nm. The result is thanks to titanium connecting rods, larger titanium inlet, custom billet camshafts, exhaust ports, exhaust valves, custom billet pistons and crankshaft. There is also a valve-controlled titanium exhaust system which is 63% lighter. According to performance, the STS-700 is sensational – 0-100 km/h in 3.2 seconds and a top speed of 330 km/h (205 mph) – this is 0.2 seconds quicker and 10 km/h, more.
The sports car also comes with complete carbon fiber body kit, which reduces the total weight and increases the downforce and airflow. It also provides better cooling for the engine and brakes, which are modified, too. The chassis and the suspension are improved by installing Ohlins three-way fully adjustable dampers, wider wheel tracks, adjustable front anti-roll bar and whisbone suspension links. The carbon-ceramic brake kit provides super stopping power.
Last, but not least, the interior comes with Alcantara-wrapped lightweight sport seats, modified gear shifters, customized roll cage with four-point harness, fire extinguisher and seat belts.
"The STS-700 accelerates from zero to 100 km/h in 3.2 seconds and reaches a top speed over 330 km/h", commented Neil Meka, CEO, RENM performance.
"However, improved driving dynamics and track performance are the main advantages. Significant reductions in lap times were recorded throughout the vehicle's development.", he finished.
RENM Gallardo STS-700:
·         Aerodynamic carbon fiber body kit;
·         Increased engine output to 700 PS;
·         Valve-controlled titanium exhaust system;
·         Chassis and suspension improvements;
·         Magnesium race wheels with race tyres;
·         Carbon ceramic brake kit;
·         Light-weight race seats in Alcantara;
·         Roll cage, harness and seat belts.
Source: RENM Performance