R&GO Smartphone Application Available For Renault's Latest SUVs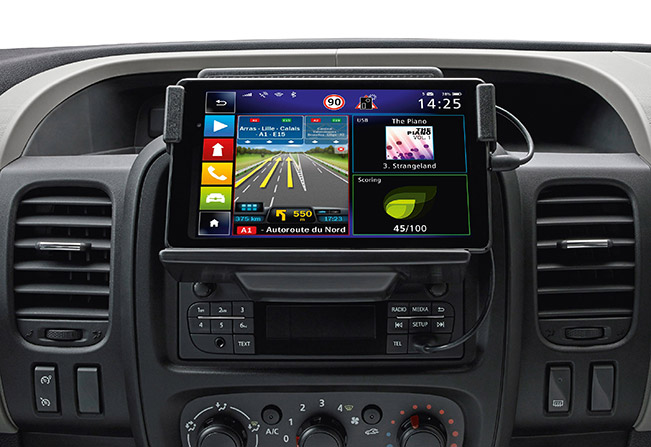 What is better than comfort while driving? I say even more comfort. So if you want to enjoy the experience of driving your Renault even more, now there is R&GO app for your vehicle which provides a variety of extras and functions that work towards improving the experience of being at the wheel of the car.
R&GO is an extremely practical, purpose-driven application which is developed to perfectly unify with your Renault. The infotainment smartphone app can be downloaded for free and works on the recently launched All-New Trafic and New Master vans. TheR&GO app is connected to the vehicle via Bluetooth. The four key functions, Vehicle, Multimedia, Phone and Navigation, can be easily accessed from the main menu.
Vehicle: It provides a number of useful information for the driver like distance travelled, fuel economy and an Eco² rating which ensures that you drive economically.
Multimedia: this section includes controlling the FM radio, listening to Internet radio, and the app also enables the driver to choose and play music which is already saved on their device.
Phone: this interface allows the drive to make and receive calls in the easiest way possible. It offers one-touch access to contacts and encourages a safer communication. Just received a SMS message? Well, that's not a problem at all for the text messages can be read out loud thanks to the SMS-to-Speech function.
Navigation: the satellite navigation option is comprised of UK and Ireland mapping, CoPilot Premium software with 3D turn-by-turn navigation and live traffic alerts. The Mapping function is downloaded and stored on the device and enables GPS navigation without using any mobile data which conveniently directs you to your destination.
Renault's LCV models are all about comfort, workability and practicality. Therefore, the R&GO app is yet another addition to the number of refinements that feature on Renault's LCV models which strives to achieve a maximum of convenience and efficient driving experience. This range of SUVs create a 'mobile office' environment, including practical storage solutions found in the 90-litres of cabin storage and a fold down central seat with detachable clipboard and a specially-designed space for a laptop.
Source: Renault