RIEGER makeover for Audi TT
German auto-design and tuning house RIEGER is preparing for its 25th anniversary next year so we decided it is worth gaining a bit of insight on their works.
In the beginning it was only a man named Tony Rieger and his garage. 25 years later Rieger Tuning is a corporation with more than 40 employees. It's main focus is production of body accessories and aerodynamic parts for cars from the European market.
And now they have an abundant array of body parts for your Audi TT S-line. The front spoiler comes with two black honeycomb mesh air-intakes and an air splitter which can either be shipped in ABS (Acrylonitrile butadiene styrene) or in a specially ordered carbon fibre look (but not really in carbon fibre). In fact almost all the other parts of the body kit have this carbon look option. The side skirts look very sporty with an air duct at their back end. The same goes for the rear valance which looks like an extension to the side skirts because of the similar ducts at it's ends. As we move on to the rear bumper, which by the way can house park distance control sensors upon order, we can notice another two distinctive vents.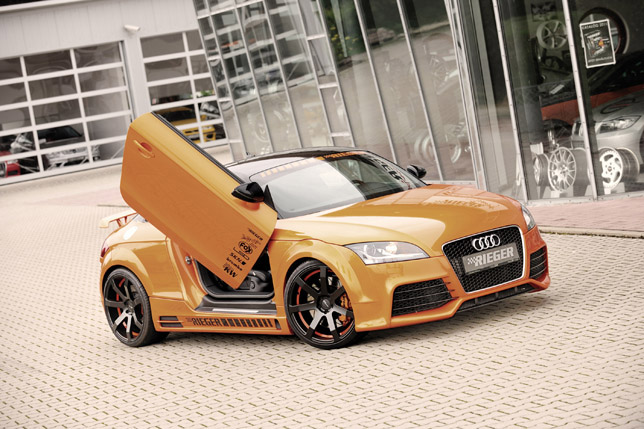 Trunk and rooftop spoilers can be added for a sportier look and it goes without saying that low profile tires wrapped around 20 inch rims can only enhance the appeal. The cherry on top is the vertical lift door conversion kit but it will set you back with $ 2666.
Everything is all very cosmetic but the end result does stir up the little boy inside each and every one of us. So one can easily be tempted to review their price list (It is revised to celebrate the anniversary!)
Source: RIEGER