ROCKET II Trike: Frogman's 1000 hp Beast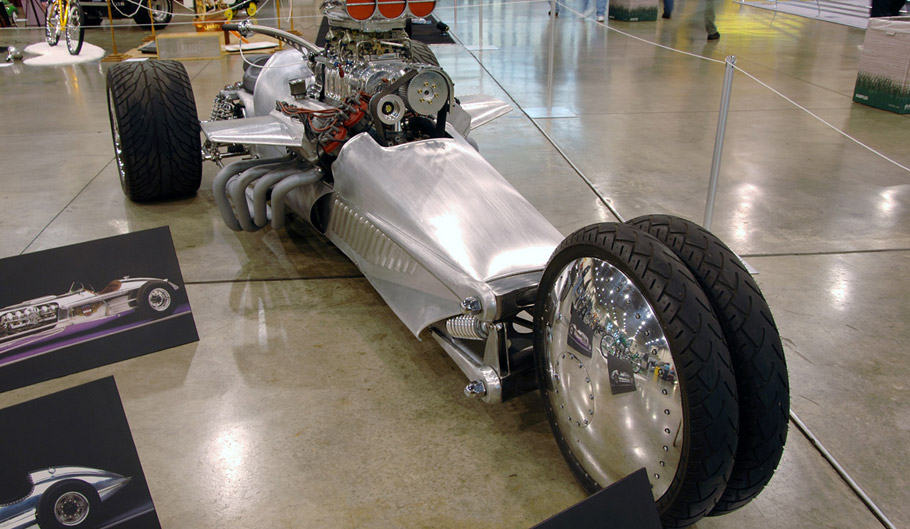 Let's tell you a story about a guy, who decided to build an incredibly awesome bike, no, motor, almost, he calls it trike. And what is so special about it? Let's tell the story first.
Tim Cotterill, better known as Frogman was born back in 1950 in England. Nothing interesting so far. But here we go. At the age of fifteen he left school, so he can complete a six-year engineering apprenticeship and when he was ready, he became sort of obsessed with metal working. Badass to the bone. Some years later, he began to feel a deep desire to own his personal motorbike. At this time Hells Angels and Easy Rider were influenced by the British motorbike scene and Tim envied their custom made machines. And the passion and love of motorbikes and curving metal led him in a long and interesting journey.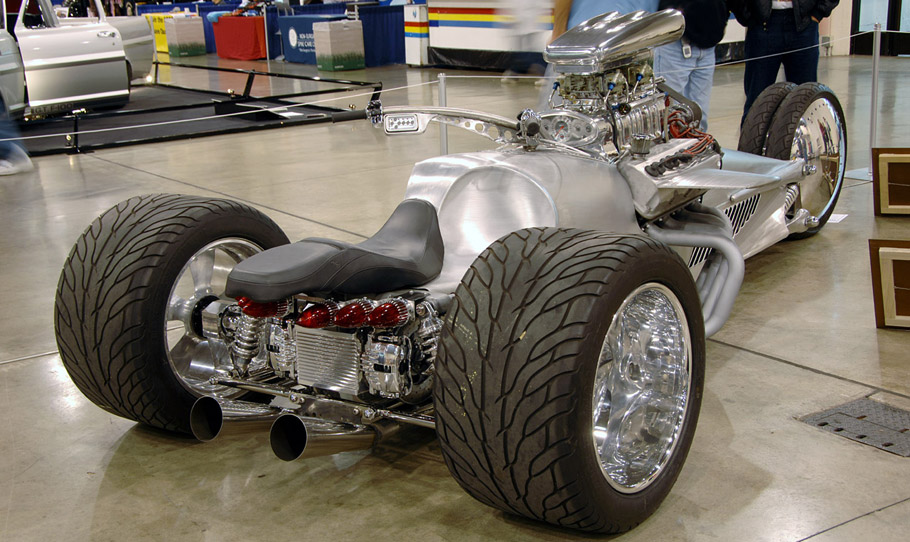 Frogman has always loved the top speed and the dragster races, so he started building his so called Rockets. At the moment he constructed Rocket I and Rocket II. And he is working on a project, that will eventually present the Rocket III. For the latest Rocket available, the II model, Tim cooperated with designer and builder Michael Leeds. It took more than three years, but the beast finally roared with power and passion. Interesting is that, when Frogman got it for registration, the female cop looked the machine and instantly said "ok". Nice and easy. So, what does the ROCKET II offers?
The mighty ROCKET II
 Weight: 2500lbs
Motor: John Arruzza - Arruzza High Performance, North Carolina
16 plug, 426 Hemi 1 of only 50 cast blocks, 1000hp 871 blower
0-100mph 4.5 seconds
Top Speed: "Who knows?"
Headers: Bassett Racing, Anaheim, CA (Speedboat headers)
Transmission: 3 speed Torqueflite
Body: Randy Grubb, Oregon
Electrical: Dave Nelson MSD ignition
Wheelbase: 12ft
Wheels: Front wheel is homage to Bonneville Salt Flats
Front rim made out of a block of aluminum 18x26 – 50lb rim inspired by the Viper
Tomahawk 2 front tires – 24in Metzler
Back axle: Kugel Komponents – La Habra, CA
20 inch rims on back
Mickey Thompson tires 18x31
9" inboard brake pistons
Custom speedometer: Classic Instruments
Back lights: '59 Cadillac
My whole life has become a fantasy.
Throughout his life, Tim has created numerous vehicles and sculptures of metal: animals, birds and there is even his golden bird and animal sculptures in some art collections around the world. Back in 1990 he emigrated to California and devoted himself to the creation of bronze sculptures. And when he went out on a street to participate in affair, there were so many orders, that he couldn't even answer them all! He now has 180 designs and offers some casting to ship all over the world.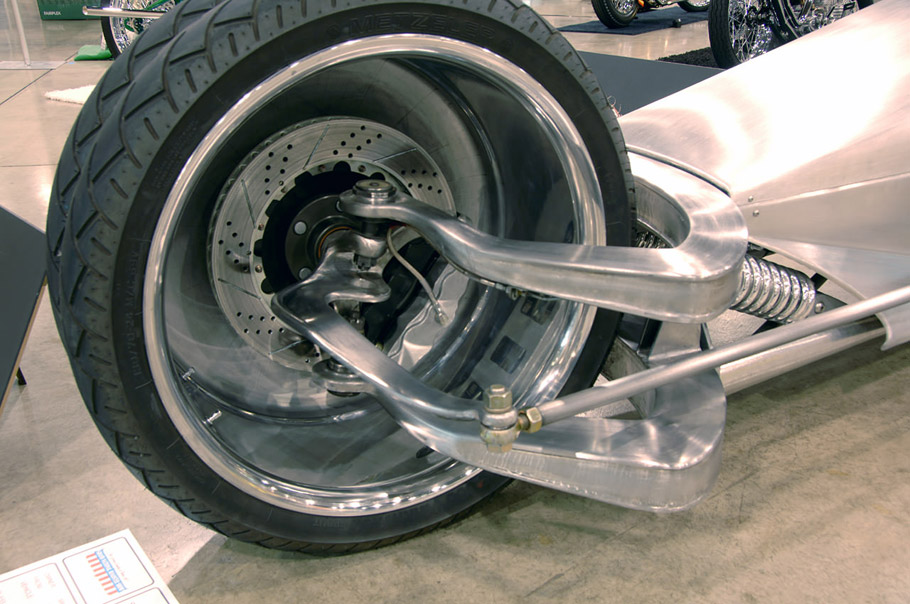 Source: www.bikernettrikes.com
Video Source: YouTube