Santa Pod Raceway. Records Tumble At The Main Event
The FIA Main Event at Santa Pod Raceway is always a crowd pleaser, but last weekend at this years event, the history book got ripped up and thrown away, with several European records being shattered in blistering sunshine.
Thanks to a blissful break in the venue's luck with the weather, the headline event seemed to have a 'feel good' factor from the get-go, with capacity crowds filing in from the first minute of the three-day meeting, and racers seemingly unable to put a foot - or a wheel - wrong. Officials sometimes barely had time to let the ink dry in their record books, before the times were sent spiralling again - sometimes in the very same round of racing! Not only did many racers manage to pip their personal bests, but also, numerous FIA records were dispatched with scant regard for their importance.
In Top Methanol dragster, Dave Wilson piloted his car to a new lowest elapsed time of just 5.304 seconds, whilst Fred Hanssen reached an unprecedented terminal speed of 266.47 mph. Hugely impressive times for this class.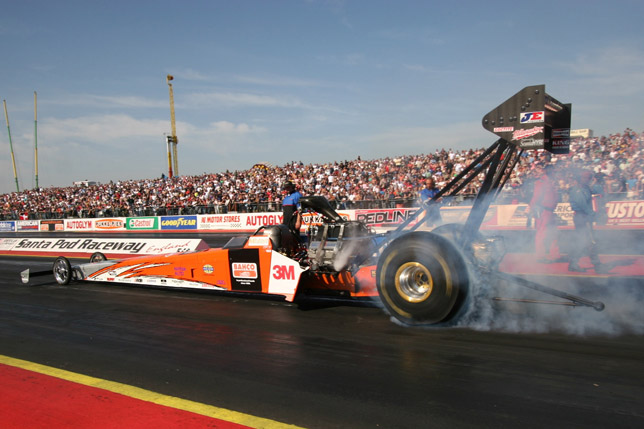 Not to be outdone, Andy Robinson clicked off a neat 6.100 ET figure in his Pro Modified car with Jimmy Allund hitting both ET and terminal speed records in the Pro Stock class by reaching 206.84 mph in just 6.694 seconds!
Looking just as impressed as the other spectators, Santa Pod's General Manager, David Lloyd Jones summed it up for everyone. 'This is how drag racing should be, and we're delighted with how the event has panned out. We've not always been so lucky with the weather, so it's great when our guests get to enjoy a real spectacle like this. The standard of racing has been fantastic - as I think the results will show! It bodes very well for the rest of the season.'
However, any horsepower junkies that didn't manage to get their full fix of nitro-methane will be delighted to know, that the strip will be being pounded in a similar manner, by a plethora of mental machinery at Santa Pod's Summer Nationals on the 13th and 14th of June.