Schmidt Revolution Enhances Ferrari F360 and 575M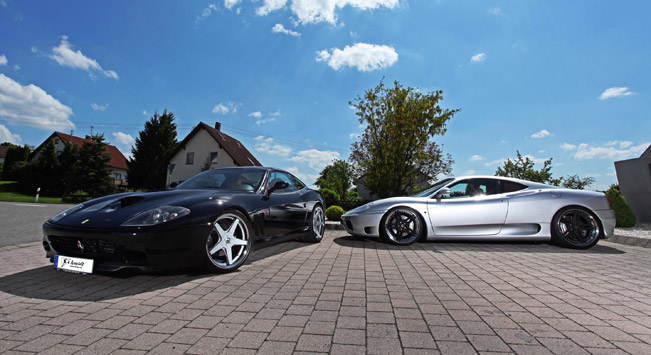 Two Ferraris are being enhanced by the company SCHMIDT Revolution. They have equipped the models with new rims, which fit perfectly to the exquisite Italian models. They were designed especially for these vehicles according to the customer requirements.
The models which were improved are the Ferrari F360 and its "younger brother" Ferrari 575M. The first vehicle is the iconic two-seater sports car, which was built by the Italian brand from 1999 to 2005. It is equipped with a mid-engine 3.6 litre V8 unit and has a rear wheel drive.
Its engine utilizes flat plane crankshaft, titanium connecting rods and produces 400 bhp (300 kW). The car runs from 0 to 100 km/h (62 mph) in just 4.3 seconds. The next vehicle is again a two-seater, two-door grand tourer, which was launched in 2002.
It is equipped with a V12 engine mated to a semi-automatic electrohydraulic manual 'F1' gearbox. The displacement of the unit is 5.7 liters and can generate up to 508 hp (379 kW) and 588.6 N•m (434.1 lb•ft) of torque at 5,250 rpm. The acceleration time for this model for the sprint from standstill to 100 km/h is only 4.2 seconds on the way to a top speed of 325 km/h (202 mph).
Both Ferrari F360 and 575M are equipped with a coil over and both vehicles were screwed to the optimum height. However, there can always happen an adjustment to the standard tires, therefore making possible an easy conversion back of both vehicles in absolute original condition.
Source: Miranda Media