Science Minister To Promote 1,000mph Lsr Car Project
The Motorsport Industry Association (MIA) has invited Lord Drayson, Minister of State for Science and Innovation and bio fuel Aston Martin racer, to use the platform of the Autosport International Show at the NEC, Birmingham (January 8-12) to champion the 1,000mph BLOODHOUND SSC World Land Speed Record project. He will explain its relevance to the UK motorsport industry at this time and its primary aim of inspiring young people to take up careers in engineering and science.
Indeed, though at maximum speed BLOODHOUND SSC driver Wing Commander Andy Green will cover a distance equivalent to four and a half football pitches every second, travelling faster than a bullet is not the principle raison d'être of The BLOODHOUND Project. That is to promote cutting-edge engineering, science, technology and mathematics in the most exciting way possible, thereby encouraging more people to study these subjects and adopt related careers.  Motorsport is a brilliant showcase for these subjects, with the Land Speed Record being the ultimate form of motorsport.
The backdrop to Lord Drayson's speech will be an EJ200, a state of the art jet engine normally found in a Typhoon Eurofighter. This, combined with a unique 18" hybrid rocket, will accelerate BLOODHOUND SSC from 0–1,050mph in just 40 seconds.
The MIA is the leading trade body for the UK motorsport industry and its members are already involved in The BLOODHOUND SSC Project. These include MCT, who make the 700plus bhp V12 engine needed to pump one tonne of high test peroxide fuel into the rocket in under 20 seconds, and Advanced Fuel Systems who will provide the special storage systems required for the record breaker's fuel.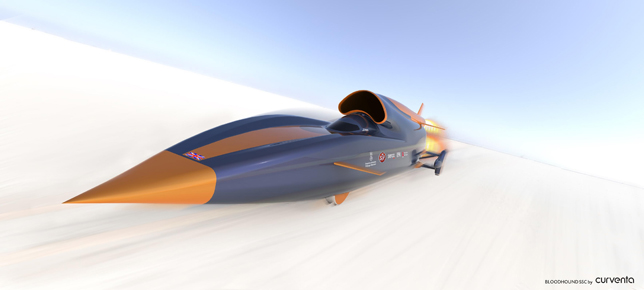 The press call will take place on the MIA stand, No.8020, Hall 8 of Autosport International. In attendance will be the key members of the BLOODHOUND SSC team, including project leader Richard Noble OBE. During the conference Lord Drayson will present the team with their MIA certificate of membership.
BLOODHOUND SSC is also serving as a welcome catalyst for cross-fertilisation between the motorsport and aerospace industries, as well as promoting collaboration between industry, academia and leading research bodies.