Senner Rise the Stakes with an Audi S5 Coupe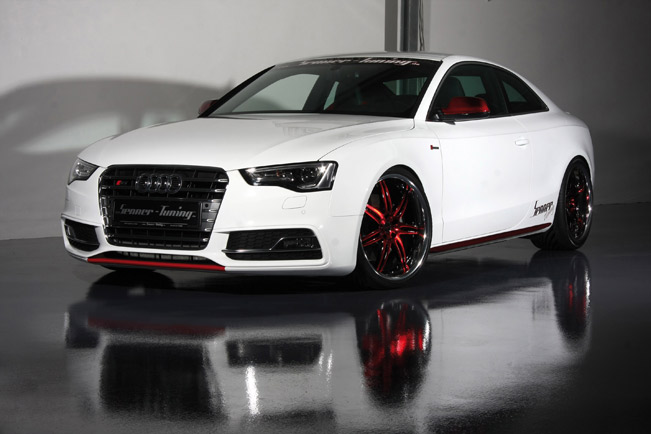 Senner are now showcasing their latest work. An Audi S5 Coupe, refurbished in a way so that it suits the taste of a person who would normally breakfast, lunch and dine behind the wheel.
The looks then: A rear spoiler flap, a rear carbon fender skirt insert and a blind for the rear screen all combine to create an appealing street look. A bit more sophistication stems from the carbon fiber side skirts and carbon fiber mirror caps. A set of red Work Varianza T1S wheels measuring at 9 x 20 inch at the front and 10.5 x 20 inch at the back, offer perfect contrast to the overall whiteness of the S5. 245/30R20 and 295/25R20 tires respectively complete the picture. The final exterior touch on Senner's creation is the stance – a complete coilover kit from KW (Variant 3) with adjustable rebound and compression settings.
Under the hood, the aftermarket experts have also left their mark. The power is now up to 377 hp – 48 hp and 60 Nm more than you'd expect from the 3.0-liter V6 TFSI engine inside. A power converter for the electronic gas pedal offers better responsivness as a new performance filter ensures better breathing. A high-grade steel sport exhaust system ends up with four exhaust tips. With all that in mind, the S5's top speed now comes close to 300 km/h.
Inside, a classic black and red leather trim complete with carbon inserts. A carbon steering wheel with Race Ring from an Audi R8 sits in front of the driver and a set of light-up RS5 door handles adorn the sides.
Source: Senner