Senner's Audi S5 Coupe 2012
This year, the Audi S5 Coupe roams the streets with a facelift... and a new engine coincidentally. The engine itself is not new new but it is a first in the S5 – The TFSI 3.0 liter V6 unit has been around for the Cabriolet and Sportback versions. Another techy addition that is not your typical facelift is a stop-start system for better fuel efficiency. Other than that, we have new bumpers, a new radiator grille, aluminum wing mirror caps and a different four-pipe exhaust system. Now, while the updated S5 is still hot, the German based Senner company is among the first to pump up the value.
The standard TFSI 3.0 liter V6 brings 329 hp - that's only 20 hp less than the one found in the pre 2012 S5 models, the FSI 4.2 liter V8. Senner engineers however, have managed to eliminate that small gap. In fact, by being fitted with a power converter and some sports air filters, the TFSI gets further ahead with 377 hp and 500Nm of torque. The exhaust pipes now size up to 100 mm in diameter each, which helps the S5 reach a tone most desirable.
The car sits on a Variant 3 Inox Line-KW coilover suspension, fully adjustable when it comes to height, rebound and pressure. The suspension itself relies on a set of 8,5x20 inch Corniche Challenge wheels with red undercut trim, wrapped in Vredestein Wintrac Extreme 245/30R2090W. Kind of late for winter tires.
Inside, a steering wheel from the R8 had been lift off complete with its paddle shifters. Trough its nicely flat figure, one can glance at the carbon speedometer panel. A DVD system on the other hand will keep the passengers busy (the driver has some corners to bend, so he/she doesn't need much multimedia).
The whole project is still in process so who knows what Senner might offer in the near future.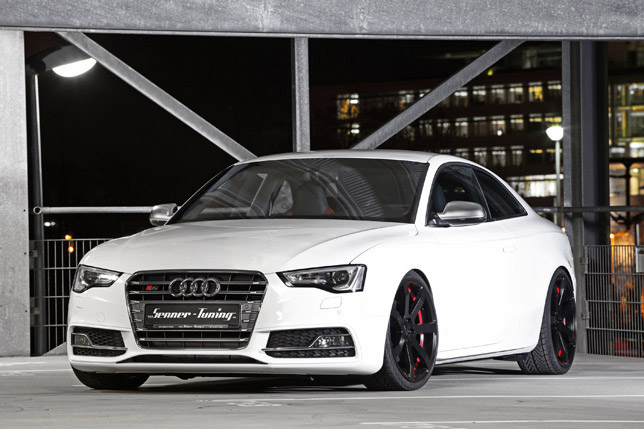 Source: Miranda Media