2012 Senner BMW Z8
The BMW Z8 model got a breathtaking tuning. Benno Senner of SENNER Tuning AG, Ingelheim, with his crew implemented this tuning. In the beginning the engine was supplied with a sports air filter set. After that a parameter adjustment followed, including the balance of the exhaust system. It featured a welded exhaust manifold with a stainless steel silencer and flame tubes designed with metal catalysts. This gives the additional the total of 37 kW (50 hp) and 535 Nm (395 lb-ft) torque. Hence, this enhancement allows raising the highest possible speed to over 300 km/h.
Furthermore, SENNER Tuning AG chose Work Schwert SC1 wheels in Diamond Black varnish with an anodized 9x19 and 10x19 inch chrome outer rims, and Continental Sport Contact 5P 255/40R19 and 285/35R19 tires. Moreover the tool kit was complemented with a tire-repair set and a compressor. Furthermore, a look through the wheel provides a view of Racing Gold varnished brake calipers. The chassis technology has also been upgraded. In addition to the coilover suspension Variant 2 Inox-Line with an adjustable rebound, a strut bar was installed on the reinforced shock mount in the front in order to stabilize the front end.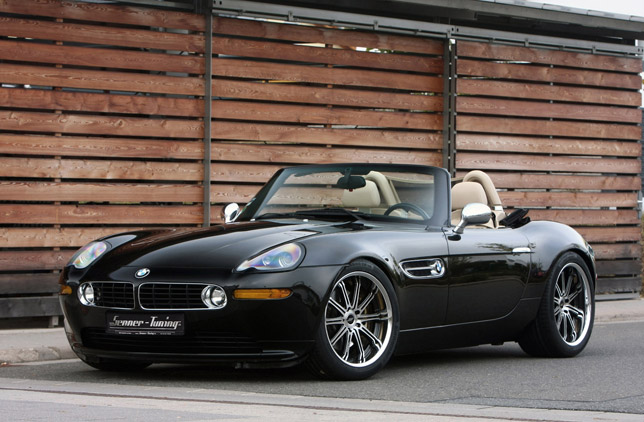 At last, the price of the tuning of this elegant black-colored Z8 of art costs € 18,900.
Source: Senner Tuning