SGA Aerodynamics Gives Audi R8 New GT Aero-Kit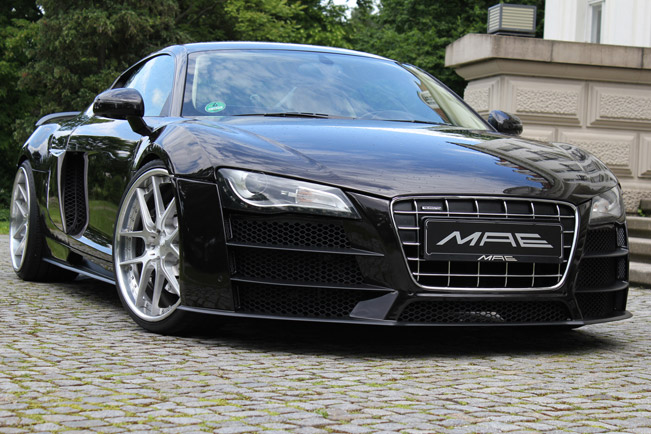 SGA Aerodynamics Audi R8 XII GT has some special aero characteristics. SGA Aerodynamics subjected the R8 sportster to a clear rejuvenation treatment and has given it an body kit and great looking rims. The package in the case of this Audi is called "XII GT Aero Kit" and was developed in order to ratch up the visual appearance of the sports car. At the front we can see multi-level, angular air inlets as well as razor-sharp spoiler blade, while at the back there is a huge rear wing. The down-force values on the front axle have also been impacted.
Furthermore, thebottom line of the new angular side skirts follows precisely the edge of the front spoiler. This ensures clean alignment. The rear end has been reinforced via air outlets on the sides and a massive rear diffuser. The huge aero-wing on the rear flap lends the silhouette a breath of the R8 some GT spirit.
In addition, there is a new bumper which holds two fitting recesses for the racing exhaust system created by MAE Design. The system has one valve control that can be controlled through a radio remote control system and thus offers a sound intensity.
At last, the car was fitted with the apropriate wheels and rims which make it stand out even more. Three-part forged wheels "MAE Forged" were mounted on this Audi R8. They come in the dimnsions of 8.5 and 12 x 21 inches at the front and back, respectively. Of course, Michelin tires of the sizes 245/30 and 295/25 ZR 21 is what comes along with them.
Source: SGA Aerodynamics