Singer Design Porsche 911 Classic
Singer Vehicle Design has revealed 2011 Singer 911, based on pre-1994 911 models.
The new "old" Porsche features many a lot of technologies such as electric AC, Spinneybeck leather interior, Sirius satellite radio, Garmin GPS, iPod connectivity and Bluetooth connectivity. This is just a brialliant idea, because many car fans love old cars.
As a part of the restoration, Singer used carbon fiber body panels to recreate the classic 911. There are also a lot of improvement under the hood, where a mighty 3.8 liter naturally aspirated flat-six delivers 425HP at staggering 8000RPM and 345 lb-ft of torque.
The suspension includes a Bilstein coilover kit and a big Brembo brake system.
The interior is just refreshened – classic leather seats and an RSR steering wheel.
We just love this car!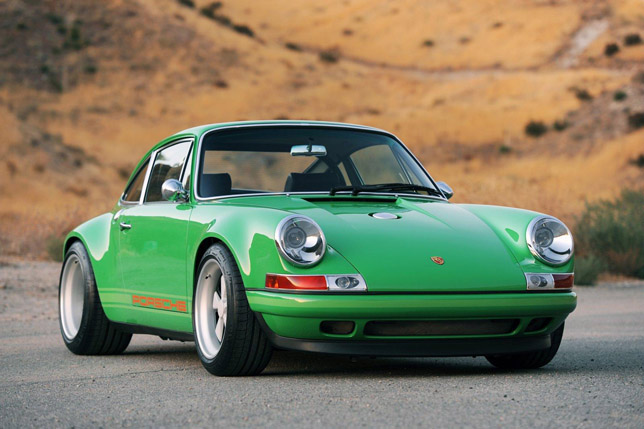 ENGINE
• 3.82-liter normally aspirated flat six 8000 rpm limit
• 9M (Ninemeister) machined from solid cylinder heads
• 9M individual throttle bodies
• 9M 103mm pistons and cylinders
• 9M valve springs and retainers
• 9M camshaft
• 997 GT3 crankshaft
• 997 GT3R oil pump
• 997 GT3 titanium connecting rods
• Motec M800 ECU with data logging, launch/traction control
• Lightweight wiring loom
• Lightweight stainless steel header / heat exchanger system with 100 cell cats, Singer stainless steel muffler
• 425 BHP / 340 lb. ft. torque
• 0-60 mph – 3.9 seconds
• 0-100 mph – 8.5 seconds
• Top speed 170+ mph
TRANSMISSION
• Getrag G50 six-speed close ratio gearbox
• Lightweight flywheel and carbon twin-plate clutch
SUSPENSION
• Multi-adjustable remote reservoir Moton shock absorbers with Eibach coil-over springs
• Jerry Woods Enterprises / Smart Racing Products multi-adjustable sway-bars and suspension componentry for ultimate finetuned road and track performance
STEERING
• Jerry Woods Enterprises / Smart Racing Products lightweight fully-adjustable electric/ hydraulic power steering system
BRAKES
• 917 / 930 Porsche Brembo calipers and rotors with stainless steel braided lines
WHEELS AND TIRES
• Zuffenhaus forged aluminum three-piece Fuchs wheels finished by Harvey Weidman
• 17" x 9J with 225 / 45 x 17 Michelin Pilot Sport Cup
• 17" x 11J with 275 / 40 x 17 Michelin Pilot Sport Cup
CHASSIS AND BODYWORK
• Extensive seam welding of chassis, integral backbone stiffening structure, developmental carbon fiber "second skin" concealed roll structure
• Bespoke full carbon fiber composite bodywork (except doors that remain in steel)
• Front lower lip spoiler and active speedsensitive rear spoiler
• Singer 911 prototype finished in Singer Racing Orange
LIGHTING
• State-of-the-Art Hella Bi-Xenon headlight system
WEIGHT
• 2 400 lbs
CREATURE COMFORTS
• Developmental lightweight electric airconditioning system
• Spinneybeck leather-lined interior finished in dark racing green
• Sirius satellite radio
• Garmin GPS
• iPod connectivity
• Bluetooth connectivity
Source: Singer Design